Author's Notes:
And lo, I did take a long time but a beautiful page emerged!
Let's try to do the character list from left to right, top to bottom, shall we? All bolded names are Patreon cameos! Thank you, guys!!
Character Guide
ROW 1 BENCHES: Viola, Aria (Steve Streza / Abigail Starling), Alahmnat (Alahmnat), Erik (CrosbowROoF), Captain Gillian (Hindae), Anthony, Jason (Marco262), Piper, Avery, Isaiah (NoteWorthy), Winnie (Makuru), Briar, Natasha (Matt)
MID 1 & 2: Jackson (Foxlover91), Hattie & Artie (Lightfox Lowell)
ROW 2 BENCHES: Oakewood, Tamberlane, Milo & Sophie (Darch), Aerdan (Aerdan), John (LongJohn), Shu (ShuTheSquirrel), Jentzen (JNSx7), Cammie & Skelly (StrayXIII), Chandra (Chandra), Rux (CouchCrusader)
ROW 3 BENCHES: Bjørn (BearFlipsTable), Jonas (Jonas), RandomGeekNamedBrent, Terra (NeonNoble), Marie, Drake (Ken R.), Lace (Leah Briere), Vera (Isaac32), Frack (Frack), Coriander (Izzy), Zen (ZenFelwinter)
MID 3 & 4: Honky Kat (Honky Kat),  Hope (Panda)
ROW 4 BENCHES: Reno (DireTaco), Trish (Whyaylooh), Gunner (GunnyWaffle), Finn (Madiso), Mimfry (StarshineBeast), Abigail (Terri Delgado), Cur (Chaon), Maribelle (F-Frost), Dana (UncoolDana), Chiros (Chiropica)
MIDGROUND: Greenie (Zaukodar), Slipstream (Grand Moff Joseph), Grey (Grey White), Stoker (StokerBat)
STAGE: Hunni (Ashley Nichols), Timmothy (TimmoWarner)
ALSO! There is a poster of this page in the shop!
Save Jonas from Drowning!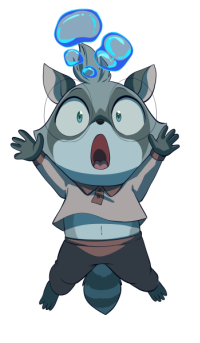 Hey, you know Jonas? The little raccoon gremlin in the bully trio who is drowning in the comic at this very second? Yeah, that Jonas -- or at least, the patron behind his cameo, needs our help! Like his character, Jonas has been underwater for some time and struggling to cobble together a safety net. So once again we're banding together to put our collective talents to fundraise a cushion for him!
The Tamberlane Twitch channel is hosting a single-day charity stream to help him pay back a small loan and then amass some security so he can make more strides in his debts and keep afloat.
So come join us on the May 28th, 11am - 3pm PST at the Tamberlane Twitch channel and help us save Jonas from drowning by getting amazing sketch commissions from me and other artists!!
Transcript
SFX: CLANG CLANG CLANG CLANG CLANG CLANG CLANG
TIMMOTHY: Any sign of her?
HONEY: Not yet.
SFX: CLANG CLANG CLANG CLANG CLANG CLANG CLANG
TIMMOTHY: Siehst du sie schon?
HONEY: Noch nicht.
SFX: CLANG CLANG CLANG CLANG CLANG CLANG CLANG
TIMMOTHY: Algum sinal dela?
HONEY: Ainda não.
Languages
Submit a Transcript