Author's Notes:
Tess? The irresponsible one? Whodathunk.
Thank you to today's Patreon cameos:
Timmothy, the meerkat, from TimmoWarner!
Bleddyn, the wolf, from Dorian Inman!
Honey, the bunny, from Ashley Nichols!
You can get your own Patreon cameo through, well, Patreon! All $50+ patrons get to show up in the comic and say a few words :D
Save Jonas from Drowning!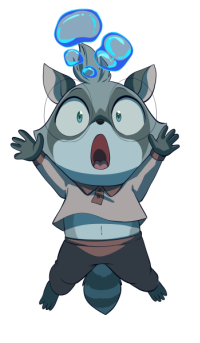 Hey, you know Jonas? The little raccoon gremlin in the bully trio who is drowning in the comic at this very second? Yeah, that Jonas -- or at least, the patron behind his cameo, needs our help! Like his character, Jonas has been underwater for some time and struggling to cobble together a safety net. So once again we're banding together to put our collective talents to fundraise a cushion for him!
The Tamberlane Twitch channel is hosting a single-day charity stream to help him pay back a small loan and then amass some security so he can make more strides in his debts and keep afloat.
So come join us on the May 28th, 11am - 3pm PST at the Tamberlane Twitch channel and help us save Jonas from drowning by getting amazing sketch commissions from me and other artists!!
Transcript
HONEY: Bleddyn, Have you seen Tess, today?
BLEDDYN: Last I saw, she was arguing with Belfry.
HONEY: Of course she was.
TIMMOTHY: Do we start the Sovereign Festival without all four council members?
BLEDDYN: We may have to. Decision's yours Timmothy.
TESS: I'm sorry!
TESS: I came as fast as I could!
TIMMOTHY: Oh thank goodness, no hard decisions today.
TIMMOTHY: Let's do this.
HONEY: Bleddyn, hast du Tess heute schon gesehen?
BLEDDYN: Ja, zuletzt noch, wie sie sich mit Belfry gestritten hat.
HONEY: Natürlich hat sie das.
TIMMOTHY: Sollen wir das Fest echt ohne alle vier Ratsmitglieder eröffnen?
BLEDDYN: Geht vielleicht nicht anders. Deine Entscheidung, Timmothy.
TESS: Tut mir leid!
TESS: Ich... bin so schnell.. gekommen wie ich konnte!
TIMMOTHY: Oh gottseidank, keine schweren Entscheidungen heute.
TIMMOTHY: Packen wirs an.
HONEY: Bleddyn, Você viu a Tess, hoje?
BLEDDYN: Ultima vez que eu vi, ela estava brigando com a Belfry.
HONEY: Claro que ela estava.
TIMMOTHY: Começamos o Festival Soberano sem todos os quatro membros do conselho?
BLEDDYN: Nós talvez teremos que fazer isso. A decisão é sua, Timmothy.
TESS: Me desculpa!
TESS: Eu vim o mais rápido que pude!
TIMMOTHY: Ah, ainda bem, nenhuma decisão difícil hoje.
TIMMOTHY: Vamos lá.
Languages
Submit a Transcript