Author's Notes:
Haha WHOOPS! Also hi again, Terra! In case you forgot, Terra's a Patreon cameo! :D
See the making of this page on YouTube!
Our Patreon just got a big revamp! If you enjoy Tamberlane and want to support its creation, I recommend checking it out!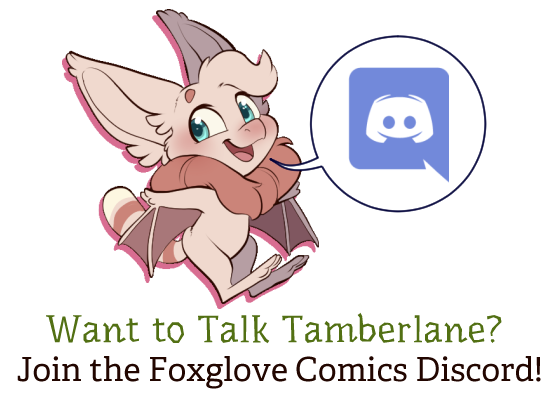 Transcript
BELFRY: Thank you so much, you guys!
BELFRY: I promise I'll be the very best parent I can be!
NORA: Just promise me that if you need help, you'll call on (obscured)
TERRA: Guys...
TERRA: I don't mean to interrupt...
TERRA: ...but where are the kids?
BELFRY: habt vielen Dank, Ihr Lieben!
BELFRY: Ich verspreche, ich gebe mein Bestes, eine gute Mutter zu sein!
NORA: Versprich mir nur, dass du uns rufst, wenn du Hilf- (verdeckt)
TERRA: Leute...?
TERRA: Ich will ja nicht stören, aber...
TERRA: ...wo sind die Kinder?
BELFRY: Muito obrigada, pessoal!
BELFRY: Eu prometo que vou ser a melhor mãe que posso!
NORA: Só me promete que se você precisar de ajuda, você vai me (obscurecido)
TERRA: Gente...
TERRA: Eu não queria interromper...
TERRA: ...mas aonde estão as crianças?
Languages
Submit a Transcript