Author's Notes:
And we're back!! It's a good thing I went on Break, because I wound up being sick the entire month of December. But I'm better now!
I'm going to be at Further Confusion in San Jose this weekend! Come see me at the Grey White / Dreamy Star table 123. I'll have some (non-deluxe, non-Kickstarter) printed editions of Tamberlane, stickers, charms, and more cool stuff! I hope to see you guys there!
---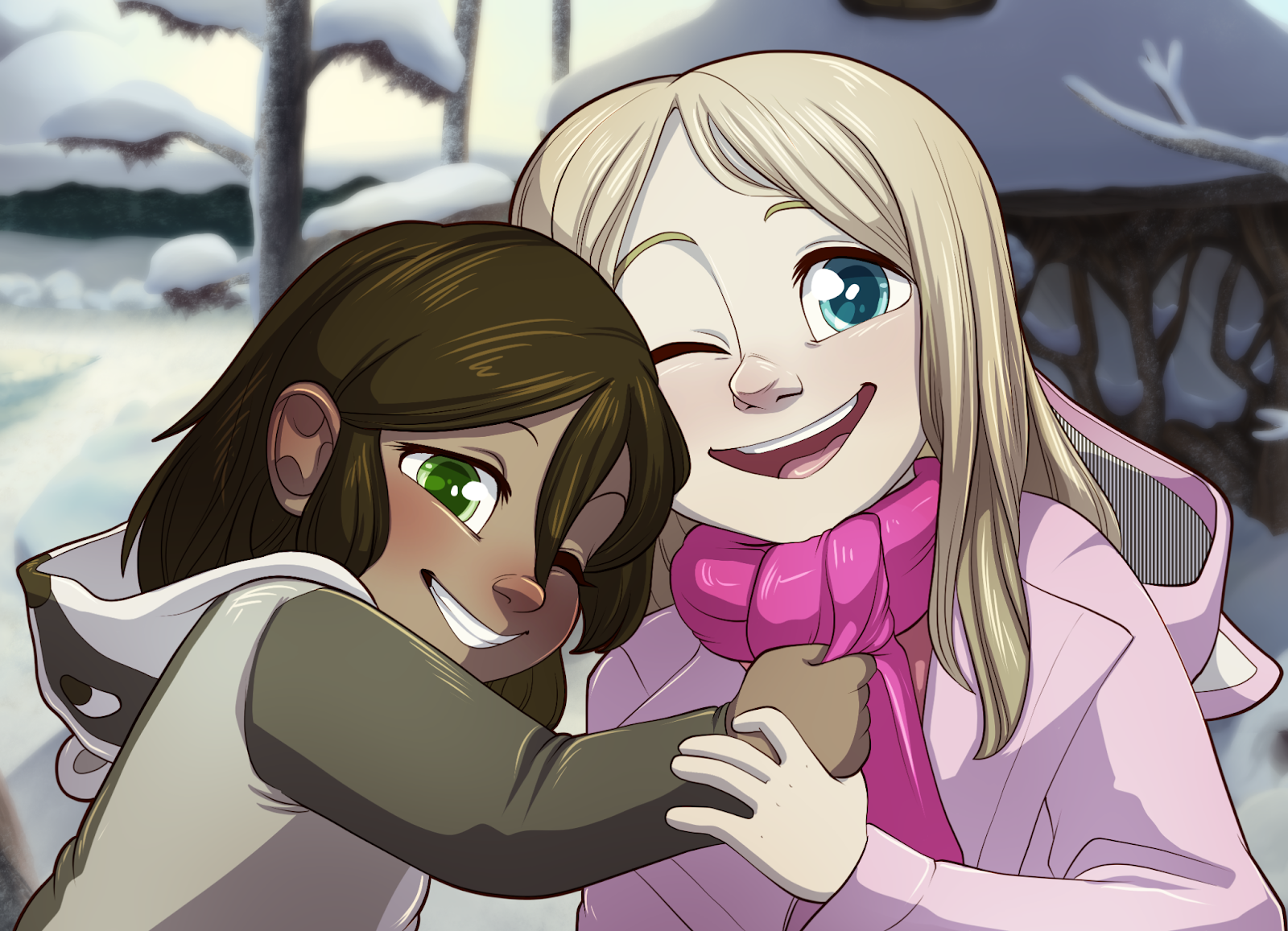 One Good Year for Anastasia
My friend's 6 year old daughter, whom I based Tamberlane on, has a fatal brain tumor and a prognosis of 1 year to live. I'm asking folks who love Tamberlane, if they're able, to throw a couple of dollars at their GoFundMe to give Anastasia a wonderful last year. Find out more here.
---
Transcript
OFFSCREEN: BELFRY!
FOX: How many fingers am I holding up?
BELFRY: T...two?
FOX: Whew! When I'd heard you fell down a cliff, I was worried!
FOX: But as usual, you defy expectations in the best way.
FOX: Since you don't appear to be concussed, I'm going to let Terra get some experience treating you.
FOX: In the meantime, I'll feed Parker. Hello, my love.
TERRA: He definitely wants his mama.
BELFRY: Oh ho, you're finally letting your apprentice do your dirty work?
TERRA: Hey, now! I'm going to have to keep up with you, eventually!
FORA: BELFRY!
RAPOSA: Quantos dedos eu estou segurando?
BELFRY: D...dois?
RAPOSA: Ufa! Quando eu escutei que você caiu de um penhasco, eu fiquei preocupada!
RAPOSA: Mas como sempre, você quebra expectativas da melhor forma.
RAPOSA: Já que você parece não ter uma concussão, eu vou deixar Terra pegar um pouco de experiência tratando você.
RAPOSA: Enquanto isso, eu vou alimentar o Parker. Olá, meu amor.
TERRA: Ele definitivamente quer a mamãe dele.
BELFRY: Ah não, você está finalmente deixando sua aprendiz fazer seu trabalho sujo?
TERRA: Ei! Eu vou ter que estar á par com você, eventualmente!

Languages
Submit a Transcript