Author's Notes:
Wow! We're at page 150 already! And Allaze's patreon cameo Mary crops up for a brief appearance. We'll see her again! Thanks for lending me Mary, Allaze!
Our Patreon just got a big revamp! If you enjoy Tamberlane and want to support its creation, I recommend checking it out!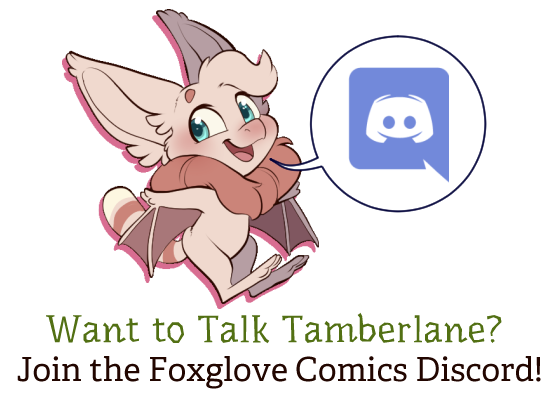 Transcript
WALTER: So, how are you doing?
BRIAR: Fine.
WALTER: You don't look fine. You are looking...Stretched thin.
BRIAR: I'm just frustrated! Why can't they buck up and apologize already?
WALTER: Have you not noticed? It is because they are the same.
BRIAR: WHAT?! No they're not! They're polar opposites!
SFX: SMACK
TESS AND BELFRY: Hhmph!!!
SFX: SPLUT
BRIAR: ...Nevermind. I see what you mean. [The apple doesn't fall far from the tree]
WALTER: Also, wie geht es dir?
BRIAR: Gut.
WALTER: Du siehst aber nicht gut aus. Eher... zum Zerreissen gespannt.
BRIAR: Ich bin nur frustriert! Warum können die sich nicht einfach malzusammenreißen?
WALTER: Hast du es nicht bemerkt? Das kommt, weil sie sich so ähnlich sind.
BRIAR: WAS?! Sind sie nicht! Sie sind absolute Gegensätze!
SFX: ZACK
TESS AND BELFRY: Hhmph!!!
SFX: PFLATSCH
BRIAR: ...Vergiss es. Ich seh was du meinst. [Der Apfel fällt nicht weit vom Stamm]
WALTER: Então, como você vai?
BRIAR: Bem.
WALTER: Você não parece bem. Você está parecendo... amassada.
BRIAR: Eu só estou frustrada! Por quê eles não podem se resolver e pedir desculpa já?
WALTER: Você não percebeu? É porquê elas são as mesmas.
BRIAR: QUÊ?! Não, elas não são! Elas são opostos polares!
SFX: SMACK
TESS E BELFRY: Hhmph!!!
SFX: SPLUT
BRIAR: ...Esquece. Eu vejo o quê você diz. [A maçã não cai longe da macieira]
Languages
Submit a Transcript