Author's Notes:
Some new cameos today! Firstly, the possum is Fallon Bard - Fallboard's character, from the "Your Character Here" auction winner! I'd say he looks pretty cute!
Next, in that first panel, the meerkat is Timmo, another peek at a Patreon cameo. (Like all of these patreon cameos, it won't just be limited to a tiny appearance on the horizon; of course he'll get some proper 'screen' time too!)
The bird is Grey White, and the bear is their husband Davin!
You can watch the making of this page on YouTube!
Save Jonas from Drowning!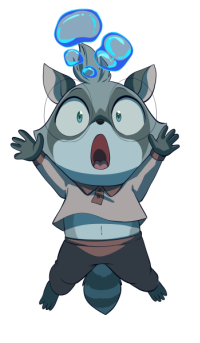 Hey, you know Jonas? The little raccoon gremlin in the bully trio who is drowning in the comic at this very second? Yeah, that Jonas -- or at least, the patron behind his cameo, needs our help! Like his character, Jonas has been underwater for some time and struggling to cobble together a safety net. So once again we're banding together to put our collective talents to fundraise a cushion for him!
The Tamberlane Twitch channel is hosting a single-day charity stream to help him pay back a small loan and then amass some security so he can make more strides in his debts and keep afloat.
So come join us on the May 28th, 11am - 3pm PST at the Tamberlane Twitch channel and help us save Jonas from drowning by getting amazing sketch commissions from me and other artists!!
Transcript
MARIE: Don't be scared! We're almost there!
MARIE: Yeah, there he is! And Fallon is with him!
PARSLEY: Hmmm...
PARSLEY: This is a pretty nice old thing, Fall, but I don't know.
FALLON: I've taken real good care of it!
PARSLEY: That's true.
MARIE: Hi guys!
MARIE: Hab keine Angst! Wir sind fast da!
MARIE: Ja, da ist er! Und Fallon ist bei ihm!
PARSLEY: Hmmm...
PARSLEY: Das ist ein ziemlich schönes altes Ding, Fall, aber ich weiß nicht.
FALLON: Ich habe mich sehr gut darum gekümmert!
PARSLEY: Das ist wahr.
MARIE: Hi Leute!
MARIE: Não se assusta! A gente tá quase lá!
MARIE: É, ele tá ali! E o Fallon está com ele!
PARSLEY: Hmmm...
PARSLEY: Isso é uma coisa velha bem legal, Fall, mas eu sei lá.
FALLON: Eu cuidei bem disso!
PARSLEY: É verdade.
MARIE: Oi pessoal!
Languages
Submit a Transcript