Author's Notes:
Artie and Hattie are quite good at telling stories, it seems! And, huh, what are these jokers up to?? We haven't seen them in a while!
Thank you to Lightfox Lowell for donating Artie & Hattie, and to Chaon for Cur, Ashley for Kira, and Jonas for Jonas.
Hey all! Most important news: on Friday, the comments and forum on this site are going to be taken down and discontinued. I don't have the energy to properly moderate and cultivate the space, so we're going to instead be directing folks to the Foxglove Comics Discord! It's a well-moderated space and there's lots of fans there to chat about new uploads with. Plus I and the team are much more active there! Secondly, we're revamping the Patreon Friday! You can read all about the changes and updates here but in short: some high-effort-low-value rewards are going away, commissions are getting refreshed, and we're aiming for a better life/work balance for me! We'll be doing the revamp live on Friday on our Twitch at 1pm PST. Go check it out -- and maybe pledge?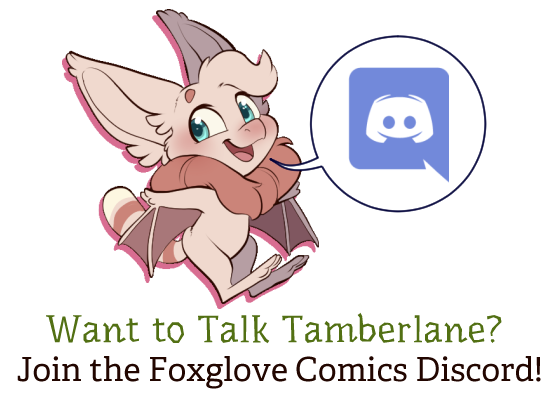 Transcript
ARTIE: They live in your shadows, watching your every move.
HATTIE: They loom taller than the tallest trees, yet they materialize from nothing at all.
ARTIE: When they set their sights on you, you'd best beware!
HATTIE: For when they hunt, they won't rest a single moment until they've caught their prey!
CUR: ow! gerroff my tail!
KIRA: sorry
ARTIE: It doesn't matter how fast you run. It doesn't matter where you hide!
HATTIE: A crack of a branch, and you'll turn to see...
JONAS: I can't see! What are they doing?
KIRA: annoying Piper, heh heh heh
ARTIE: ...they're right behind you, walking, walking, reaching...!
PIPER: EEK!
KIRA: jesus
ARTIE: Sie leben in den Schatten, beobachten jeden deiner Schritte.
HATTIE: Sie türmen höher als die höchsten Bäume, erscheinen jedoch wie aus dem Nichts.
ARTIE: Wenn sie dich bemerken, solltest du dich hüten!
HATTIE: Denn wenn sie dich jagen, werden sie nicht Rasten, bis sie ihr Opfer gefangen haben!
CUR: au! runner von meinem Schwanz!
KIRA: sorry
ARTIE: Egal wie schnell du rennst, egal wie gut du dich versteckst!
HATTIE: Ein knacksender Zweig, und du wirst sehen...
JONAS: Ich seh nichts! Was machen die?
KIRA: Die nerven Piper, heh heh heh
ARTIE: ...sie sind genau hinter dir, gehend, gehend, greifend...!
PIPER: IIEK!
KIRA: gott
ARTIE: Eles vivem um suas sombras, observando cada movimento seu.
HATTIE: Eles parecem mais altos que as maiores árvoras, porém eles materializam de nada.
ARTIE: Quando eles colocam os olhos em você, é melhor tomar cuidado!
HATTIE: Pois quando eles caçam, Eles não vão parar por um momento até conseguirem sua presa!
CUR: ai! saida minha cauda!
KIRA: desculpa
ARTIE: Não importa quão rápido você corra. Não importa aonde você se esnconde!
HATTIE: O estalo de um galho, e você vera...
JONAS: Eu não consigo ver! O que eles tão fazendo?
KIRA: incomodando a Piper, heh heh heh
ARTIE: ...eles estão bem atrás de você, andando, andando, se esticando...!
PIPER: AAH!
KIRA: jesus
Languages
Submit a Transcript