Author's Notes:
More questions, and some more questions, and still more questions!
CrookedGlasses's Jentzen the cheetahwolf has finally been able to make a more substantial appearance. Yay! There's a bunch of text edits I wanted to make but honestly, it'll just have to happen for print. Cut me some slack, I am very tired
Anyway, thanks also as usual to Chaon for Cur and Zaukodar for Callie. Thanks for lending me your children!
BWOOP BWOOP! THIS IS NOT A DRILL! BWOOP BWOOP!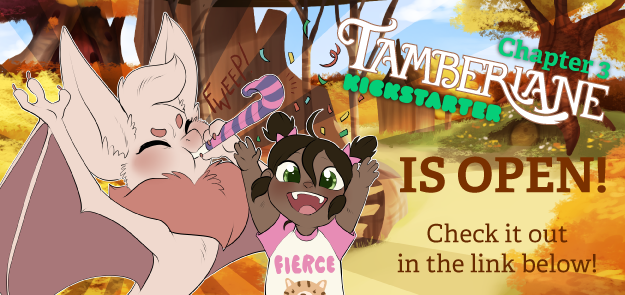 The CHAPTER 3 TAMBERLANE KICKSTARTER is now LIVE!
If you're looking for a beautiful printed copy of any of the three chapters so far, you're in the right place! Tamberlane's Chapter 3 Kickstarter is off with a BANG! The heart-squeezing comic about a disaster bat trying to care for a mysterious creature -- a human child -- has so many great prizes! And there are lots of chances for even MORE!
The Kickstarter funded at $84,764!!! AMAZING! But if you missed out, don't fret! We have a preorder store open for a little bit while we get our files together.
Orders through the preorder store still count towards our stretch goals. If you want the updated, higher quality versions of Chapters 1, 2, and 3, you can pledge for them there and get us closer to the reprint stretch goal! (And if we don't hit the goal, you won't be charged for them.)
Transcript
KID 1: What happens when someone goes Abroad?
KID 2: What's it like there?
KID 3: Why's it called Abroad, anyway? Is that what it's really called?
KID 4: Why can't you just go and visit?
KID 5: How far away is it?
KID 6: I just don't understand why we can't even ask!
KID 1: Have you ever been there, Miss Callie?
KID 2: Where is Abroad?
TAMBERLANE: Am I from there?
KID 3: Can you ever get untainted?
KID 4: When you get tainted, do you grow, like, a third eye?!
CALLIE: ENOUGH!!!
CALLIE: We are not speaking of Abroad! This behavior is beyond inappropriate!
JENTZEN: Callie.
JENTZEN: Why aren't you telling them? It is important that they know.
CALLIE: Absolutely not, Jentzen! The edicts clearly state that under no circumstances are we to speak of it to students…
JENTZEN: The edicts are wrong!!
PIPER: What's the edicts?
MARIE: I dunno.
KIND 1: Was passiert, wenn man nach Draussen geht?
KIND 2: Wie ist es dort?
KIND 3: Wieso heist es eigentlich Draussen? Ist das wirklich der echte Name?
KIND 4: Wieso kann man dort nicht einfach hingehen?
KIND 5: Wie weit weg ist es?
KIND 6: Ich versteh nur nicht, warum wir nicht einfach fragen dürfen!
KIND 1: Waren sie jemals dort, Frau Callie?
KIND 2: Wo ist Draussen?
TAMBERLANE: Komm ich dort her?
KIND 3: Kann man jemals vom Verderben befreit werden?
KIND 4: Wenn du verdorben wirst, wächst dir dann ein drittes Auge oder so?!
CALLIE: ES REICHT!!!
CALLIE: Wir sprechen nicht über Draussen! Dieses Verhalten ist inakzeptabel!
JENTZEN: Callie.
JENTZEN: Wieso sagst du es ihnen nicht? Es ist wichtig, dass sie darüber Bescheid wissen.
CALLIE: Auf keinen Fall, Jentzen! Die Edikte sagen klar und deutlich, dass wir unter keinen Umständen Schülern darüber erzählen sollen...
JENTZEN: Die Edikte sind falsch!!
PIPER: Was sind die Edikte?
MARIE: Keine Ahnung.
CRIANÇA 1: O quê acontece quando alguém vai ao Exterior?
CRIANÇA 2: Como que é lá?
CRIANÇA 3: Por quê que é chamado de Exterior, aliás? É assim mesmo que é chamado?
CRIANÇA 4: Por quê você só não pode ir visitar?
CRIANÇA 5: Quão longe é?
CRIANÇA 6: Eu só não entendo por quê a gente não pode nem perguntar!
CRIANÇA 1: Você já foi lá, Senhora Callie?
CRIANÇA 2: Onde é o Exterior?
TAMBERLANE: Eu sou de lá?
CRIANÇA 3: Dá pra você tirar sua mancha?
CRIANÇA 4: Quando você fica manchado você cresce, tipo, um terceiro olho?!
CALLIE: JÁ CHEGA!!!
CALLIE: Nós não vamos falar sobre o Exterior! Esse comportamento é além de inapropriado!
JENTZEN: Callie.
JENTZEN: Por quê você não está falando pra eles? É importante que eles saibam.
CALLIE: Absolutamente não, Jentzen! Os éditos dizem claramente que que sob nenhuma circunstância devemos falar disso para os alunos…
JENTZEN: Os éditos estão errados!!
PIPER: O quê são os éditos?
MARIE: Sei lá.
Languages
Edit This Transcript
Submit a Transcript