Author's Notes:
Such salient questions! Turns out the kids aren't as informed as one would think...
Continued thanks to Zaukodar (Callie) and Ashley Nichols (Kira) for their Patreon cameos!
The CHAPTER 3 KICKSTARTER is on its way, ready to launch on a SECRET DAY in August!!! Packed full of fun goodies and a gorgeous printed book copy of Chapter 3, you won't want to miss it!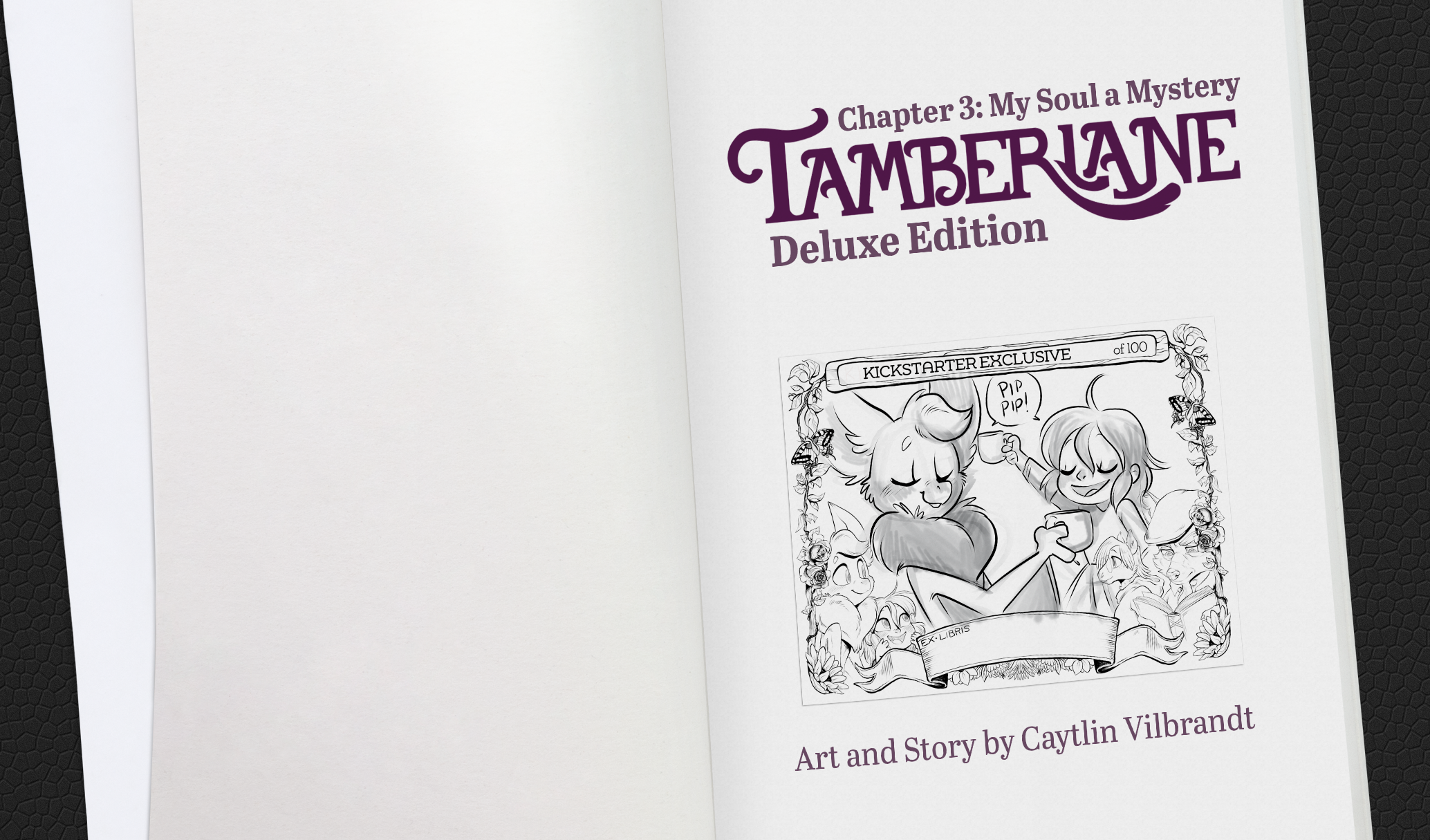 There are a limited amount of SKETCHED BOOKPLATE BOOKS available which will contain a personalized, hand-drawn sketch! Dying to get one? They're going to go fast!
The campaign will be launched first for $3+ Patrons, so they get FIRST SHOT at those sketch slots!
Support at $3+ and get your headstart!
Not able to support the Patreon? That's fine too! After the $3+ patrons get 12 hours, the KICKSTARTER MAILING LIST gets the next shot! This is DIFFERENT from the normal mailing list.
Sign up for the mailing list HERE!
After that, it'll go live to the public and I'll drop a post HERE! I'm super excited, you guys. It's going to be so GREAT!
To help this Kickstarter be the VERY BEST it can be! Share the comic with your friends and spread the word! Get everyone SUPER PUMPED!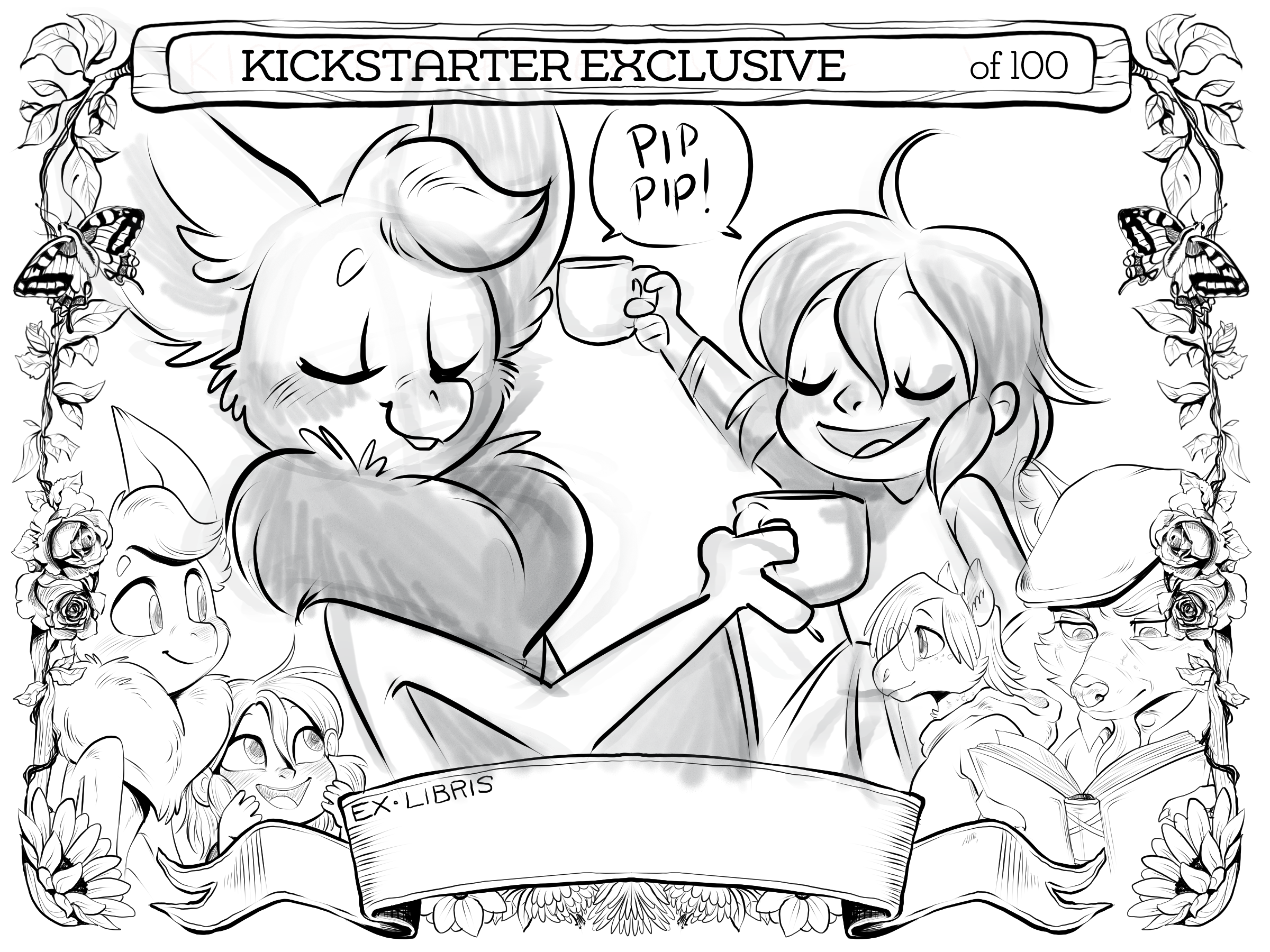 LET'S KICK BUTT, EVERYONE!
Taking a Temporary Hiatus: We'll Be Back Soon!
A little bit of unfortunate news, Caytlin has come down with COVID and needs some time to rest and recover. As such, the comic is going on a 3-week break. Tamberlane will return July 5th.
But never fear! There will still be content in the meantime in terms of art, and comic pages will still be coming out to $10+ patrons as they're completed during this time period.
Thank you to everyone for your understanding!
As a reminder, if you missed out on the Kickstarter, you can still preorder books and other exclusive merch through Backerkit, which will be fulfilled when Kickstarter rewards go out. We'll be posting periodic reminders, so you can get your orders in before we close up the Backerkit shop, but be sure to check it out.
Transcript
CALLIE: S-so, when we go to Bally Bluffs, I'll have brought plenty of parchment for our roots projects...
KIRA: Hey, Marie, you were right! Nice subject change, Teach!
SFX: HAHAHA
MARIE: Oh, please, Miss Callie, just tell us!
ANTHONY: Grown-ups make it sound so terrifying...
PIPER: And awesome!
CALLIE: It is not awesome! We don't talk about...that place...
KIRA: Maybe we didn't before, but since Tamberlane got here, it's all you grown-ups ever whisper about!
CALLIE: Children, please, this is highly innapropriate!
ANTHONY: Why do some creatures choose to go there?
MARIE: How come being sick is just as bad as being a traitor?
PIPER: And why do you get tainted so you can't come back?
CALLIE: A-Also, wenn wir nach Bally Bluffs gehen, werde ich eine Menge Pergament für unsere Wurzelprojekte mitbringen...
KIRA: Hey, Marie, du hattest voll Recht! Netter Themenwechsel!
SFX: HAHAHA
MARIE: Oh, bitte, Frau Callie, sagen sie es uns einfach!
ANTHONY: Erwachsene lassen es so schrecklich klingen...
PIPER: Und hammermäßig!
CALLIE: Das ist nicht "hammermäßig"! Wir reden nicht über...diesen Ort...
KIRA: Vielleicht früher nicht, aber seit Tamberlane hier ist, flüstert ihr Erwachsenen nur noch darüber!
CALLIE: Kinder, bitte, das gehört sich überhaupt nicht!
ANTHONY: Warum gehen manche Kreaturen freiwillig dort hin?
MARIE: Wie kommt es, dass krank sein genauso schlimm sein kann, wie ein Verräter zu sein?
PIPER: Und warum wird man so verdorben, dass man nie zurückkehren kann?
CALLIE: E-então, quando nós fomos para as Escarpas Bally, eu vou ter trazido bastante pergaminho para nossos projetos de raízes...
KIRA: Ei, Marie, você tava certa! Boa troca de assunto, Profe!
SFX: HAHAHA
MARIE: Oh, por favor, Senhora Callie, só conta pra nós!
ANTHONY: Os adultas fazem parecer tão assustador...
PIPER: E incrível!
CALLIE: Não é incrível! Nós não falamos sobre...aquele lugar...
KIRA: Talvez antes, mas desde que a Tamberlane chegou aqui, é tudo que vocês adultos sussuram sobre!
CALLIE: Crianças, por favor, isso é altamente inapropriado!
ANTHONY: Por quê que algumas criaturas escolhem ir lá?
MARIE: Como que ficar doente é tão ruim como ser um traidor?
PIPER: E por quê você fica manchado que você não pode voltar?
Languages
Edit This Transcript
Submit a Transcript