Author's Notes:
We have some cameos happening today!
The german shepherd is Patreon cameo John! Thanks, John Deemer!
The dragon-dolphin (or "dergolphin" if you will) is also a Patreon cameo, Callie! Thanks, Zaukodar!
The horse is RJ, her appearance graciously donated in place of Dorian's Patreon cameo!
And finally, the priest Vessie is a Patreon cameo! Thanks, Citizenrob!
If you want your character in the comic, you should check out the Tamberlane Patreon! You can get all that and more!!
Our Patreon just got a big revamp! If you enjoy Tamberlane and want to support its creation, I recommend checking it out!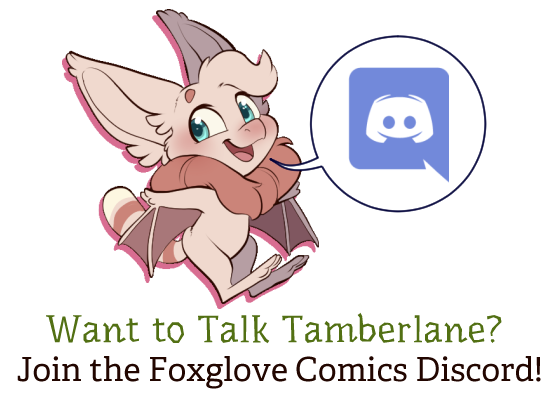 Transcript
NORA: Belfry? Are you quite all right?
BELFRY: What? Oh... Yes, of course!
NORA: Belfry...
BELFRY: I'm fine! It's fine!
BELFRY: We'll find them! We will.
BELFRY: It's just...
BELFRY: It took me less than twelve hours to lose my first kit.
BELFRY: I really... I really Belfry'd this one up.
NORA: Belfry? Tá tudo bem?
BELFRY: Quê? Ah... Sim, claro!
NORA: Belfry...
BELFRY: Eu tô bem! Tá bem!
BELFRY: Nós vamos encontrá-los! Nós vamos.
BELFRY: É só que...
BELFRY: Me levou menos de 12 horas pra perder meu primeiro filho.
BELFRY: Eu realmente... eu realmente dei uma de Belfry nessa.
Languages
Submit a Transcript