Author's Notes:
We have some cameos happening today!
The german shepherd is Patreon cameo John! Thanks, John Deemer!
The dragon-dolphin (or "dergolphin" if you will) is also a Patreon cameo, Callie! Thanks, Zaukodar!
The horse is RJ, her appearance graciously donated in place of Dorian's Patreon cameo!
And finally, the priest Vessie is a Patreon cameo! Thanks, Citizenrob!
If you want your character in the comic, you should check out the Tamberlane Patreon! You can get all that and more!!
Save Jonas from Drowning!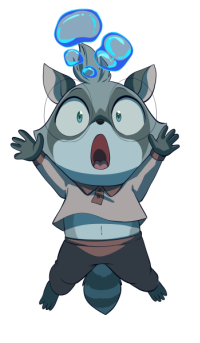 Hey, you know Jonas? The little raccoon gremlin in the bully trio who is drowning in the comic at this very second? Yeah, that Jonas -- or at least, the patron behind his cameo, needs our help! Like his character, Jonas has been underwater for some time and struggling to cobble together a safety net. So once again we're banding together to put our collective talents to fundraise a cushion for him!
The Tamberlane Twitch channel is hosting a single-day charity stream to help him pay back a small loan and then amass some security so he can make more strides in his debts and keep afloat.
So come join us on the May 28th, 11am - 3pm PST at the Tamberlane Twitch channel and help us save Jonas from drowning by getting amazing sketch commissions from me and other artists!!
Transcript
NORA: Belfry? Are you quite all right?
BELFRY: What? Oh... Yes, of course!
NORA: Belfry...
BELFRY: I'm fine! It's fine!
BELFRY: We'll find them! We will.
BELFRY: It's just...
BELFRY: It took me less than twelve hours to lose my first kit.
BELFRY: I really... I really Belfry'd this one up.
NORA: Belfry? Tá tudo bem?
BELFRY: Quê? Ah... Sim, claro!
NORA: Belfry...
BELFRY: Eu tô bem! Tá bem!
BELFRY: Nós vamos encontrá-los! Nós vamos.
BELFRY: É só que...
BELFRY: Me levou menos de 12 horas pra perder meu primeiro filho.
BELFRY: Eu realmente... eu realmente dei uma de Belfry nessa.
Languages
Submit a Transcript