Author's Notes:
I'm sorry except I'm not sorry at all that this Chapter 2 is sorta full of Feels. But man, you have to have a place to work up from!
Hey guys, did you see Henry and Nora's cameo in Anaria??? OH MY GOSH. Check it out: https://anaria.dreamystar.net/comic/side-story-winters-light-page-9/
Hey all! Most important news: on Friday, the comments and forum on this site are going to be taken down and discontinued. I don't have the energy to properly moderate and cultivate the space, so we're going to instead be directing folks to the Foxglove Comics Discord! It's a well-moderated space and there's lots of fans there to chat about new uploads with. Plus I and the team are much more active there! Secondly, we're revamping the Patreon Friday! You can read all about the changes and updates here but in short: some high-effort-low-value rewards are going away, commissions are getting refreshed, and we're aiming for a better life/work balance for me! We'll be doing the revamp live on Friday on our Twitch at 1pm PST. Go check it out -- and maybe pledge?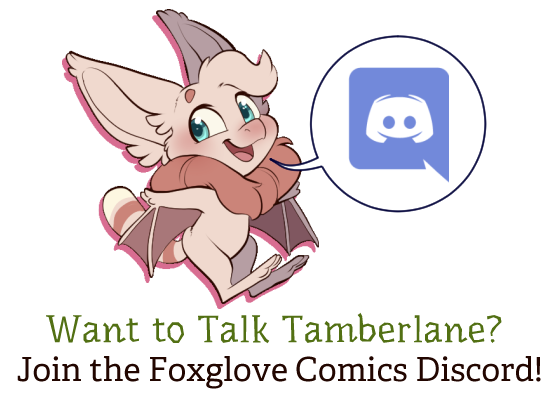 Transcript
BELFRY: ...I'm not cut out for this.
NORA: Belfry...
BELFRY: You can see it, I can see it... Everyone can see it!
BELFRY: I can't take care of another creature! I can barely take care of myself!
NORA: Belfry, calm down!
BELFRY: Yesterday, I forgot to wear oven mitts!!
BELFRY: WHO FORGETS OVEN MITTS?!
BELFRY: ...Ich bin einfach nicht dafür geschaffen.
NORA: Belfry...
BELFRY: Du siehst es, ich sehe es... Jeder sieht es!
BELFRY: Ich kann mich um kein anderes Wesen kümmern! Ich kann mich ja nicht mal um mich selbst kümmern!
NORA: Belfry, komm runter!
BELFRY: Gestern hab ich vergessen, Ofenhandschuhe anzuziehen!!
BELFRY: WER BITTE VERGISST OFENHANDSCHUHE?!
BELFRY: ...Eu não sirvo pra isso.
NORA: Belfry...
BELFRY: Você pode ver, eu posso ver... Todo mundo pode ver!
BELFRY: Eu não consigo tomar cuidado de outra criatura! Eu mal consigo tomar cuidado com mim mesma!
NORA: Belfry, calma!
BELFRY: Ontem, eu esqueci de usar luvas térmicas!!
BELFRY: QUEM ESQUECE LUVAS TÉRMICAS?!
Languages
Submit a Transcript