Author's Notes:
Some teeny tiny cameos on this page!
Hindae's griff is on the boat to the left! He's a $50 patron!
Ashley Nichols's Kira is on the boat eating an apple!
And Abigail Starling gets a fursona in the little otter on Hindae's boat!
See the making of this page on YouTube!
Hey all! Most important news: on Friday, the comments and forum on this site are going to be taken down and discontinued. I don't have the energy to properly moderate and cultivate the space, so we're going to instead be directing folks to the Foxglove Comics Discord! It's a well-moderated space and there's lots of fans there to chat about new uploads with. Plus I and the team are much more active there! Secondly, we're revamping the Patreon Friday! You can read all about the changes and updates here but in short: some high-effort-low-value rewards are going away, commissions are getting refreshed, and we're aiming for a better life/work balance for me! We'll be doing the revamp live on Friday on our Twitch at 1pm PST. Go check it out -- and maybe pledge?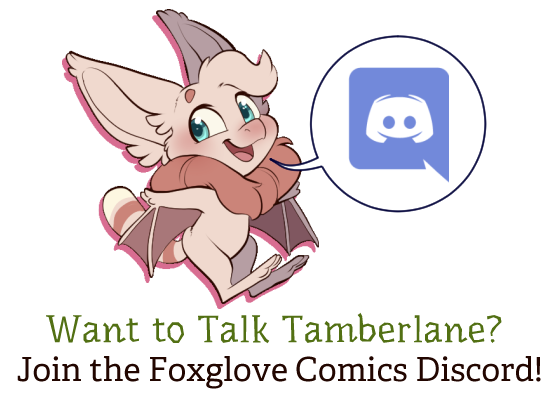 Transcript
MARIE: Aw, don't feel sad!
MARIE: I probably just don't know what kind of animal you are.
MARIE: I'm not a grown-up, after all!
MARIE: But Parsley might know!
MARIE: He spends his time behind the Jackal.
MARIE: Ach, sei nicht traurig!
MARIE: Vielleicht weiß ich bloß noch nicht, was für ein Tier du bist.
MARIE: Ich bin schließlich kein Erwachsener!
MARIE: Aber Parsley könnte es wissen!
MARIE: Er verbringt seine Zeit hinter der "Schakal".
MARIE: Aw, não fica triste!
MARIE: Eu provavelmente só não sei que tipo de animal você é.
MARIE: Eu não sou crescida, no final das contas!
MARIE: Mas o Parsley pode saber!
MARIE: Ele passa seu tempo atrás do Chacal.
Languages
Submit a Transcript