Author's Notes:
Poor Tamberlane. :(
There's a time-lapse available of this page on my Youtube! Go watch it! PS, if you wanna be a big help, subscribe to my channel: after I hit 100, I'll be able to make my Youtube URL actually memorable instead of a hash of letters and numbers!
Hey all! Most important news: on Friday, the comments and forum on this site are going to be taken down and discontinued. I don't have the energy to properly moderate and cultivate the space, so we're going to instead be directing folks to the Foxglove Comics Discord! It's a well-moderated space and there's lots of fans there to chat about new uploads with. Plus I and the team are much more active there! Secondly, we're revamping the Patreon Friday! You can read all about the changes and updates here but in short: some high-effort-low-value rewards are going away, commissions are getting refreshed, and we're aiming for a better life/work balance for me! We'll be doing the revamp live on Friday on our Twitch at 1pm PST. Go check it out -- and maybe pledge?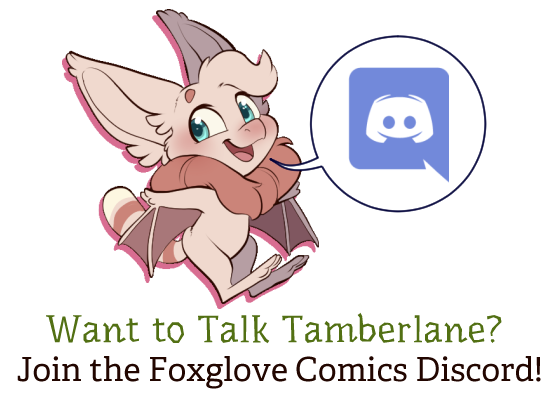 Transcript
MARIE: The best way to get to Parsley is this way!
MARIE: So why do you want to see Parsley, anyway?
TAMBERLANE: Penny!
MARIE: I didn't know you knew Penny!
MARIE: What about Penny?
TAMBERLANE: P...Penny!
TAMBERLANE: Penny tree no bad Tamberlane.
MARIE: I'm sorry, I don't understand. What's a Tamberlane?
TAMBERLANE: Bad Tamberlane, no!
MARIE: Oh, no! Please don't cry! I'm so sorry! Is Tamberlane you?
MARIE: Zu Parsley geht es am schnellsten hier entlang!
MARIE: Warum möchtest du eigentlich zu Parsley?
TAMBERLANE: Penny!
MARIE: Ich wusste nicht, dass du Penny kennst!
MARIE: Was ist mit Penny?
TAMBERLANE: P...Penny!
TAMBERLANE: Penny Baum nein böse Tamberlane.
MARIE: Tut mir leid, ich verstehe nicht... was ist ein Tamberlane?
TAMBERLANE: Böse Tamberlane, nein!
MARIE: Oh, nein! Bitte nicht weinen! Es tut mir so leid! Bist du Tamberlane?
MARIE: O melhor jeito de chegar no Parsley é por aqui!
MARIE: De qualquer jeito, por quê você quer ver o Parsley?
TAMBERLANE: Penny!
MARIE: Eu não sabia que você conhece a Penny!
MARIE: O quê sobre a Penny?
TAMBERLANE: P...Penny!
TAMBERLANE: Penny trei não Tamberlane mau.
MARIE: Desculpa, eu não entendi. O quê é um Tamberlane?
TAMBERLANE: Tamberlane mau, não!
MARIE: Ah, não! Por favor não chora! Me desculpa! Tamberlane é você?
Languages
Submit a Transcript