Author's Notes:
It's page 69! Nice. B)
See the making of this page on YouTube!
Our Patreon just got a big revamp! If you enjoy Tamberlane and want to support its creation, I recommend checking it out!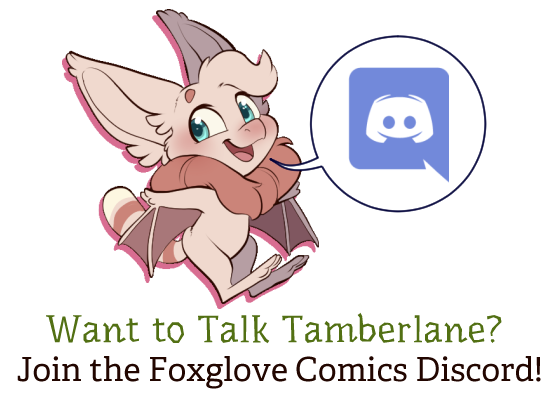 Transcript
TAMBERLANE: I tail??
MARIE: You don't have one! That I can see, anyway.
MARIE: I've never heard of an animal without a tail!
MARIE: But that's okay. It just means you're different!
TAMBERLANE: Diff'ren?
MARIE: Yeah! You don't look much like the other creatures here.
MARIE: Here, I'll show you!
MARIE: See?
TAMBERLANE: Ich Schwanz??
MARIE: Du hast keinen! Zumindest nicht, soweit ich sehen kann.
MARIE: Ich hab noch nie von einem Tier ohne Schwanz gehört!
MARIE: Aber das ist okay. Das heißt nur, dass du etwas anders bist!
TAMBERLANE: An-ders?
MARIE: Ja! Du siehst nicht wirklich aus wie all die Anderen hier.
MARIE: Komm, ich zeigs dir!
MARIE: Siehst du?
TAMBERLANE: Eu cauda??
MARIE: Você não tem uma! Que eu consiga ver, de qualquer jeito.
MARIE: Eu nunca ouvi falar de um animal sem uma cauda!
MARIE: Mas isso é ok. Só significa que você é diferente!
TAMBERLANE: Diferenti?
MARIE: É! Você não se parece muito com as criaturas aqui.
MARIE: Aqui, vou te mostrar!
MARIE: Tá vendo?
Languages
Submit a Transcript