Author's Notes:
Who's in charge? Apparently it's not the grown-ups!!
Thank you to Lauren Pierre for flatting this page! And thank you to Lightfox Lowell for his Patreon Cameo loan of Hattie!
---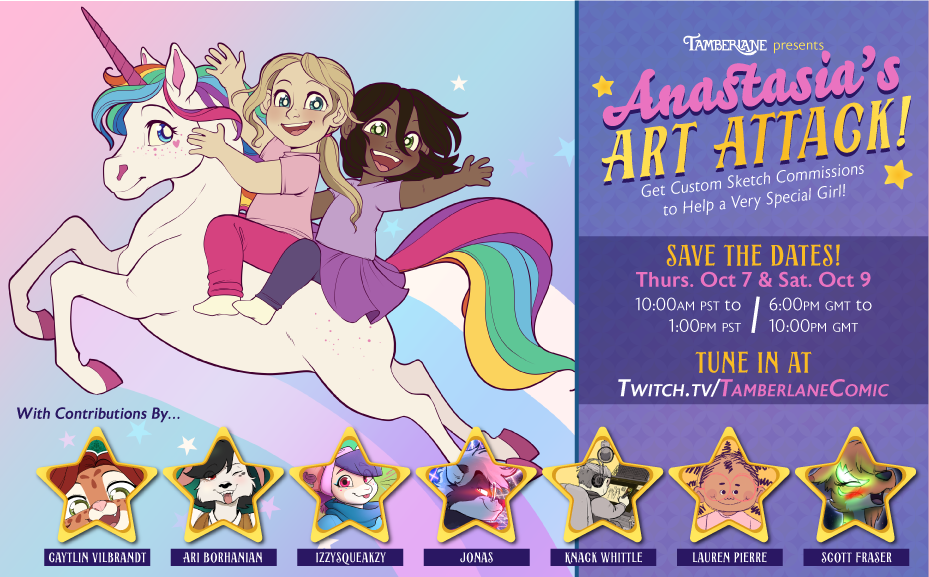 Join us for ANASTASIA'S ART ATTACK!
Save the Dates! On Thurs. Oct. 7 and Sat. Oct. 9, 10am-1PM PST, the Tamberlane Twitch channel will be holding a charity stream to help a special little girl, Anastasia! Join a handful of your favorite artists to get some art and raise money in this special charity event!
---
Transcript
PIPER: Here is our plan of action!
PIPER: We're gonna hunt the perimenter for ghost clues.
PIPER: Yes, Hattie?
HATTIE: What's a 'perimenter'?
PIPER: It's another word for inside the chapel. Duh!!
ANTHONY: But Piper, the grown-ups said we had to stay outside--
PIPER: FOR THE LOVE OF GOD, ANTHONY, WHO IS IN CHARGE HERE?!
PIPER: Okay. Ahem. Please 'scuse my outbursts.
PIPER: Now, where was I?
PIPER: Oh, sod it all! LET'S HUNT GHOSTS!!!
PIPER: Aqui está nosso plano de ação!
PIPER: Vamos caçar pistas de fantasma no perínmetro.
PIPER: Sim, Hattie?
HATTIE: O que é um 'perínmetro'?
PIPER: É outra palavara pra dentro da capela. Duh!!
ANTHONY: Mas Piper, os adultos disseram que tinhamos que ficar for--
PIPER: PELO AMOR DE DEUS, ANTHONY, QUEM TÁ NO COMANDO AQUI?!
PIPER: Ok. Ahem. Por favor desculpem minhas explosões.
PIPER: Agora, aonde eu estava?
PIPER: Ah, dane-se! BORA CAÇAR FANTASMAS!!!
Languages
Submit a Transcript