Author's Notes:
Right to the kisser! Ouch!
Special thanks to patrons Chaon for Cur, Ashley Nichols for Kira, and Jonas for Jonas! Thanks for letting me use your babies!
An incredibly rare opportunity has surfaced! For the first time in several years, I am vending at a convention!
Come see me at table 904 at GeekGirlCon this weekend in Seattle! I'll have tons of great stuff for sale, including Chapter 3, tote bags, blankets, enamel pins, stickers, and more!
This isn't going to happen often: I'm unable to travel much and I have to safeguard my health. So if you want to meet me and say hi, maybe pick up some awesome merch, now's a good chance! I hope to see you all there!
Kickstarter fulfillment should go off without a hitch over the next three days in preparation, so if you're expecting a Kickstarter package, I hope you're excited. I know I am!
Save Jonas from Drowning!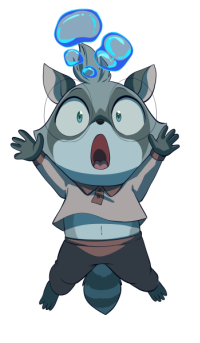 Hey, you know Jonas? The little raccoon gremlin in the bully trio who is drowning in the comic at this very second? Yeah, that Jonas -- or at least, the patron behind his cameo, needs our help! Like his character, Jonas has been underwater for some time and struggling to cobble together a safety net. So once again we're banding together to put our collective talents to fundraise a cushion for him!
The Tamberlane Twitch channel is hosting a single-day charity stream to help him pay back a small loan and then amass some security so he can make more strides in his debts and keep afloat.
So come join us on the May 28th, 11am - 3pm PST at the Tamberlane Twitch channel and help us save Jonas from drowning by getting amazing sketch commissions from me and other artists!!
Transcript
PIPER: What?! How is it her fault? I asked the stupid question!
CUR: Yeah, well, if not for her, no one'd be jawin off about Abroad at all!!
CUR: Thanks to her, the only good teacher's gone and got 'jected from class!
ANTHONY: Hey! Miss Callie's good!
JONAS: Miss Callie's only nice to her favorite students!
CUR: The one's who fawn at 'er claws and suck up!
KIRA: Plus, her after-school tutoring is boring!
TAMBERLANE: Maybe I can help?
CUR: I don't want no help from you, y'furless freak!
SFX: POW
PIPER: Was?! Wieso ist das ihre Schuld? Ich hab die blöde Frage gestellt!
CUR: Ja, aber wenn sie nicht wäre, würde garniemand erst über Draussen reden!!
CUR: Dank ihr wurde der einzige gute Lehrer aus der Schule geschmissen!
ANTHONY: Hey! Frau Callie ist auch gut!
JONAS: Frau Callie ist nur nett zu ihren Lieblingsschülern!
CUR: Die, die sich vor ihren Krallen verbeugen und ihr alles nachtanzen!
KIRA: Ausserdem ist ihre Nachhilfe totlangweilig!
TAMBERLANE: Vielleicht kann ich helfen?
CUR: Ich will deine Hilfe nicht, du fellloser Freak!
SFX: POW
PIPER: Quê?! Como que é culpa dela? Eu que fiz a pergunta idiota!
CUR: É, bem, se não fosse por ela, ninguém 'taria tagarelando sobre o Exterior!!
CUR: Por causa dela, o único professor bom deu o pé!
ANTHONY: Ei! A Sra. Callie é boa!
JONAS: A Sra. Callie só é legal com os alunos favoritos dela!
CUR: Aqueles que pagam o maior pau pra ela!
KIRA: Também, a tutoria depois da escola dela é chata!
TAMBERLANE: Talvez eu posso ajudar?
CUR: Não quero nenhuma ajuda de tu, sua aberração depilada!
SFX: POW
Пайпер: ЧТО?! С какого это её вина? Это Я задала тот дурацкий вопрос!
Кур: Ага, нуу, если б не она, то никто б ваще и не заикался про Ту Сторону!!
Кур: А терь, из-за неё, единственного нормального учителя выгнали!
Энтони: Эй! Мисс Келли тоже хорошая!
Джонас: Мисс Келли хорошая только для своих любимчиков!
Кур: Ага, для тех сосунков, кто виляет перед ней хвостом!
Кира: Плюс, её занятия после уроков скучные!
Тамберлэйн: Может, я могу помочь?
Кур: Не нужна мне твоя помощь, плешивая уродина!
SFX: ХРЯП!
Languages
Submit a Transcript