Author's Notes:
Poor Marie. Good thing she has a support network of friends!
2 trips to the ER, a second painkiller prescription, and a lot of sleepless nights later, I think the kidney stone is passed?? Hopefully? Drink your water, kids! Kidney stones suck! And now I can get back to motoring on work. I can't tell you how badly I want to get ahead of all this!
The Kickstarter has ended fabulously and I'm so thrilled! If you missed out, the preorder store is open.
They will be delivered after the Kickstarter is fulfilled, but should still get to you before Christmas! You know, if you're already thinking about holiday gifts.
Save Jonas from Drowning!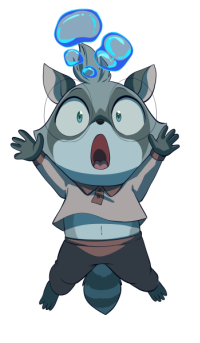 Hey, you know Jonas? The little raccoon gremlin in the bully trio who is drowning in the comic at this very second? Yeah, that Jonas -- or at least, the patron behind his cameo, needs our help! Like his character, Jonas has been underwater for some time and struggling to cobble together a safety net. So once again we're banding together to put our collective talents to fundraise a cushion for him!
The Tamberlane Twitch channel is hosting a single-day charity stream to help him pay back a small loan and then amass some security so he can make more strides in his debts and keep afloat.
So come join us on the May 28th, 11am - 3pm PST at the Tamberlane Twitch channel and help us save Jonas from drowning by getting amazing sketch commissions from me and other artists!!
Transcript
TAMBERLANE: Marie! Are you okay?! Are you hurt?!
MARIE: I-I'm sorry, I just-, I just-
MARIE: That was so scary!!
ANTHONY: Too right!
ANTHONY: That was so weird, though. I've never seen Miss Callie mad.
PIPER: Yeah, she's usually obnoxiously nice.
MARIE: We made a teacher cry...
TAMBERLANE: Marie! Alles okay?! Tut dir was weh?!
MARIE: T-tut mir leid, I-ich muss-, ich musste nur-
MARIE: Das war so unheimlich!!
ANTHONY: Voll und ganz!
ANTHONY: Aber das war so seltsam. Ich hab Frau Callie noch nie so wütend gesehen.
PIPER: Ja, sie ist für gewöhnlich unerträglich freundlich.
MARIE: Wir haben einen Lehrer zum Weinen gebracht...
TAMBERLANE: Marie! Você tá bem?! Você tá machucada?!
MARIE: D-desculpa, d-desculpa, eu só, eu só-
MARIE: Aquilo foi tão assustador!!
ANTHONY: Nem me fala!
ANTHONY: Mas, isso foi tão estranho. Eu nunca vi a Senhora Callie brava.
PIPER: É, ela é geralmente insuportávelmente legal.
MARIE: A gente fez uma professora chorar...
Тамберлэйн: Мари! Ты в порядке?! Тебе больно?!
Мари: П-простите, мне просто-, я просто-
Мари: Я так ИСПУГАЛАСЬ!!
Энтони: Мягко говори!
Энтони: Это так странно. Я никогда не видел мисс Келли такой злой.
Пайпер: Ага. Как правило, она до неприличия милая.
Мари: Мы довели учителя до слёз...
Languages
Submit a Transcript