Author's Notes:
OOOOH SNAP. The glove has come OFF.
Thanks as usual to Zaukodar for lending me Callie, CrookedGlasses for lending me Jentzen, Chaon for lending me Cur, and Ashley Nichols for lending me Kira! Get your own Patreon cameo here!
The Kickstarter has been going SWIMMINGLY! We just hit our first stretch goal, some adorable pencil/dice pouches adorned with cute Tamberlane and Belfry expressions! Check out the Kickstarter and help us reach our next stretch goal: a variant cover by Minty Messerly!
Hey all! Most important news: on Friday, the comments and forum on this site are going to be taken down and discontinued. I don't have the energy to properly moderate and cultivate the space, so we're going to instead be directing folks to the Foxglove Comics Discord! It's a well-moderated space and there's lots of fans there to chat about new uploads with. Plus I and the team are much more active there! Secondly, we're revamping the Patreon Friday! You can read all about the changes and updates here but in short: some high-effort-low-value rewards are going away, commissions are getting refreshed, and we're aiming for a better life/work balance for me! We'll be doing the revamp live on Friday on our Twitch at 1pm PST. Go check it out -- and maybe pledge?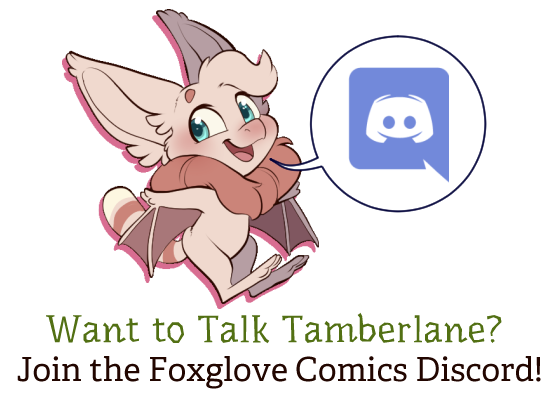 Transcript
CALLIE: No.
JENTZEN: But-
CALLIE: I said NO.
CALLIE: The edicts exist for a reason.
CALLIE: You are my teacher's aide, Jentzen. You are not a teacher yet.
Callie: And after this..traitorous display I don't think you'll ever be.
JENTZEN: Fine.
JENTZEN: If you will not take risks for the sake of the cubs here...
JENTZEN: Then I don't want to be one anyway.
CALLIE: Nein.
JENTZEN: Aber-
CALLIE: Ich sagte NEIN.
CALLIE: Die Edikte existieren aus einem Grund.
CALLIE: Du bist mein Referandar, Jentzen. Du bist noch kein Lehrer.
CALLIE: Und nach diesem...verräterichem Verhalten glaube ich auch nicht, dass du jemals einer sein wirst.
JENTZEN: Schön.
JENTZEN: Wenn du keine Risiken zum Wohl unserer Kinder eingehen willst...
JENTZEN: Dann möchte ich auch gar keiner mehr werden.
CALLIE: Não.
JENTZEN: mas-
CALLIE: Eu disse NÃO.
CALLIE: Os Éditos existem por uma razão.
CALLIE: Você é meu auxiliar, Jentzen. Você não é um professor ainda.
Callie: E depois dessa..mostra traíra Eu não acho que você vai ser.
JENTZEN: Tá bom.
JENTZEN: Se você não vai se arriscar pelos filhotes aqui...
JENTZEN: Então eu não quero ser um de qualquer jeito.
Languages
Submit a Transcript