Author's Notes:
Seems like the day took a toll on everyone involved. What's next for our poor characters?
Thanks as usual to Zaukodar for lending me Callie, CrookedGlasses for lending me Jentzen, Chaon for lending me Cur, and Ashley Nichols for lending me Kira! Get your own Patreon cameo here!
There are 6 DAYS LEFT on the Tamberlane Kickstarter!
We've got a little under $5k until the next stretch goal -- help us reach new heights! And in return, get some Kickstarter-exclusive swag like the special variant cover by Minty Messerly! What are you waiting for? Go back the Kickstarter now!!
Save Jonas from Drowning!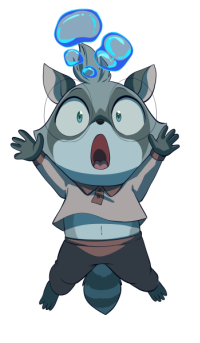 Hey, you know Jonas? The little raccoon gremlin in the bully trio who is drowning in the comic at this very second? Yeah, that Jonas -- or at least, the patron behind his cameo, needs our help! Like his character, Jonas has been underwater for some time and struggling to cobble together a safety net. So once again we're banding together to put our collective talents to fundraise a cushion for him!
The Tamberlane Twitch channel is hosting a single-day charity stream to help him pay back a small loan and then amass some security so he can make more strides in his debts and keep afloat.
So come join us on the May 28th, 11am - 3pm PST at the Tamberlane Twitch channel and help us save Jonas from drowning by getting amazing sketch commissions from me and other artists!!
Transcript
Callie: W-Well then! I will be bringing snacks to the campout, but if you have any favorite snacks, bring some too!
Callie: I think that's all for today!
Anthony: B...But... ... isn't there still some time before sunhigh...?
Callie: Early release!!! Isn't that nice?!
Callie: A-Also dann, ich werde Snacks für das Lager mitbringen, aber wenn ihr etwas bevorzugt, bringt gerne etwas mit!
Callie: Ich glaub das wars für heute!
Anthony: A...Aber... ... dauert es nicht noch etwas bis Mittag...?
Callie: Früher Schluss!!! Ist das nicht toll?!
Callie: B-Bem então! Eu vou trazer lanchinhos pro acampamento, mas se você tem algum preferido, traga alguns também!
Callie: Eu acho que isso é tudo por hoje!
Anthony: M...Mas... ... ainda não tem um tempo até o meio-dia...?
Callie: Saída adiantada!!! Não é legal?!
Languages
Submit a Transcript