Author's Notes:
WHEW!!! This is why there was an extra week of break. There are a lot of cameos in here, so let's identify them all!
Starting from left to right, we have:
Huni, the bunny, from Ashley Nichols
Hi again Parsley!
Peek, the korean water deer, from PK
The mouse and lion are just random townspeople.
Skelly, the cat (yes, a normal-ass animal), from Stray XIII
Jackie, the jackal-cat, also from Stray XIII
Cur, the jackal-gerboa, from Chaon
Stoker, the bat, from Stoker Bramwell
and Trisha, the marble fox, from Patrick Kingsley.
Save Jonas from Drowning!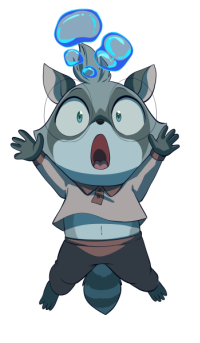 Hey, you know Jonas? The little raccoon gremlin in the bully trio who is drowning in the comic at this very second? Yeah, that Jonas -- or at least, the patron behind his cameo, needs our help! Like his character, Jonas has been underwater for some time and struggling to cobble together a safety net. So once again we're banding together to put our collective talents to fundraise a cushion for him!
The Tamberlane Twitch channel is hosting a single-day charity stream to help him pay back a small loan and then amass some security so he can make more strides in his debts and keep afloat.
So come join us on the May 28th, 11am - 3pm PST at the Tamberlane Twitch channel and help us save Jonas from drowning by getting amazing sketch commissions from me and other artists!!
Transcript
TAGG: Egh,fine. We still have to trade off all our metals, So...meet my brother and I at the Jackal in one hour.
TAGG: Don't be late
DANGER: You're buying the drinks!
And so...
DANGER: Barkeep! Over here!
TAGG: Egh,na gut. Aber erst müssen wir noch unsere Metalle verkaufen, also... trefft meinen Bruder und mich in einer Stunde im "Schakal".
TAGG: Und seid ja pünktlich!
DANGER: Die Drinks gehen auf Euch!
Und so...
DANGER: Herr Wirt! Hier drüben!
TAGG: Egh, tá bom. Nós ainda temos que trocar nossos metais, Então... encontre eu e meu irmão no Chacal em uma hora.
TAGG: Não se atrase.
DANGER: Você compra as bebidas!
E então...
DANGER: Barista! Aqui!
Languages
Submit a Transcript