Author's Notes:
Whew!! This was a real thorny page! Lots and lots of things had to get drawn. As you can imagine, there are a lot of cameos!
PANEL ONE: The badger belongs to Grey White!
PANEL TWO: The raccoon belongs to Ashley Nichols and Puck belongs to Codesign!
PANEL FOUR: Gunner the bat belongs to Gunny Waffle, Asher the fox belongs to, well, Asher the Fox, and Reno the dingo belongs to DireTaco.
So glad to get more sunny faces on the page here!!!
Save Jonas from Drowning!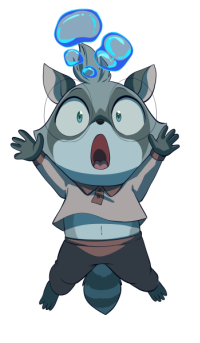 Hey, you know Jonas? The little raccoon gremlin in the bully trio who is drowning in the comic at this very second? Yeah, that Jonas -- or at least, the patron behind his cameo, needs our help! Like his character, Jonas has been underwater for some time and struggling to cobble together a safety net. So once again we're banding together to put our collective talents to fundraise a cushion for him!
The Tamberlane Twitch channel is hosting a single-day charity stream to help him pay back a small loan and then amass some security so he can make more strides in his debts and keep afloat.
So come join us on the May 28th, 11am - 3pm PST at the Tamberlane Twitch channel and help us save Jonas from drowning by getting amazing sketch commissions from me and other artists!!
Transcript
OAKEWOOD: Observation: subject lacks anxiety at parental separation.
TAMBERLANE: Hi, Puck!
PUCK: Mornin' Young Tam!
TAMBERLANE: Terra!
TERRA: Let's just clean your cute little face!
NORA: Having fun, Tamberlane?
PENNY: Mummy! You can let go now! I got it!
BAT: Oh, you haven't been in town for a while.
TAMBERLANE: Hungry?
FOX: AAGGHH! What is that?!
DINGO: That's Tamberlane! Our resident "ghost!"
OAKEWOOD: Beobachtung: Subjekt hat keine Angst nach Trennung von Eltern.
TAMBERLANE: Hi, Puck!
PUCK: Morgen, Klein-Tam!
TAMBERLANE: Terra!
TERRA: Lass uns mal dein süßes kleines Gesicht saubermachen!
NORA: Hast du Spaß, Tamberlane?
PENNY: Mami! Du kannst loslassen! Ich hab's!
FLEDERMAUS: Oh, du warst eine ganze Weile nicht mehr in der Stadt.
TAMBERLANE: Hungrig?
FUCHS: AAAAHH! Was ist das?!
DINGO: Das ist Tamberlane, unser hiesiger "Geist"!
OAKEWOOD: Observação: sujeito carece de ansiedade com separação parental.
TAMBERLANE: Oi, Puck!
PUCK: Dia, Jovem Tam!
TAMBERLANE: Terra!
TERRA: Vamos limpar essa sua carinha fofa!
NORA: Se divertindo, Tamberlane?
PENNY: Mamãe! Você pode soltar agora! Tá comigo!
MORCEGO: Oh, você não esteve por aqui por um tempo.
TAMBERLANE: Fome?
RAPOSA: AAGGHH! O quê é isso?!
DINGO: Essa é a Tamberlane! Nosso residente "fantasma!"
Languages
Submit a Transcript