Author's Notes:
IT'S A BIRDHORSE!!! Milo is D'Archangel's Patron cameo and all around cutie patootie! Sophie was, in her source material, a big ol' cross spider; but since I didn't want to look at reference material, he kindly let me alter her to a moth. c: Thanks darch!
Our Patreon just got a big revamp! If you enjoy Tamberlane and want to support its creation, I recommend checking it out!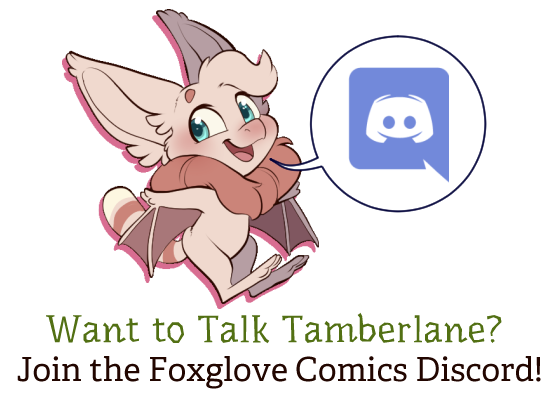 Transcript
OAKEWOOD: Oh. That Milo.
MILO: Yeah... it's me.
ANTHONY: Who's that?
TAMBERLANE: I dunno!
PIPER: Who ever heard of a bird-horse with a coyote for an uncle?!
ANTHONY: PIPER!
TAMBERLANE: I like him!
OAKEWOOD: So...
OAKEWOOD: How's your mother?
MILO: She actually asked about you!
OAKEWOOD: Pah. That's a lie and you know it.
MILO: Well. yeah. But I missed you...
PIPER: This is so boring!
ANTHONY: I think it's sweet!
TAMBERLANE: Me too!
OAKEWOOD: Oh. Der Milo.
MILO: Ja... ich bin's.
ANTHONY: Wer ist das?
TAMBERLANE: Weiß nicht!
PIPER: Wer hat je von einem Vogel-Pferd mit einem Kojoten als Onkel with a gehört?!
ANTHONY: PIPER!
TAMBERLANE: Ich mag ihn!
OAKEWOOD: Also...
OAKEWOOD: Wie geht es deiner Mutter?
MILO: Sie... hat sich nach dir erkundigt!
OAKEWOOD: Pah. Das ist gelogen und du weißt das.
MILO: Nun... ja. Aber ich hab dich vermisst...
PIPER: Das ist so ätzend!
ANTHONY: Ich find's voll süss!
TAMBERLANE: Ich auch!
OAKEWOOD: Ah. Esse Milo.
MILO: É... sou eu.
ANTHONY: Quem é esse?
TAMBERLANE: Sei lá!
PIPER: Quem já ouviu de um cavalo-pássaro com um coiote de tio?!
ANTHONY: PIPER!
TAMBERLANE: Eu gosto dele!
OAKEWOOD: Então...
OAKEWOOD: Como está sua mãe?
MILO: Ela perguntou sobre você, na verdade!
OAKEWOOD: Pah. Isso é uma mentira e você sabe.
MILO: Bem. é. Mas eu fiquei com saudade...
PIPER: Isso é tão entediante!
ANTHONY: Eu achei fofo!
TAMBERLANE: Eu também!
Languages
Submit a Transcript