Author's Notes:
Peas are what make the world go around, according to Tamberlane "Snapdragon" Belfriton. Also: Jason is a patron cameo of Marco262 (also my husband, who throws his own spending money into my patreon because he's a big goddamn sweetheart!), and also, gasp???? Who's that????
Hey all! Most important news: on Friday, the comments and forum on this site are going to be taken down and discontinued. I don't have the energy to properly moderate and cultivate the space, so we're going to instead be directing folks to the Foxglove Comics Discord! It's a well-moderated space and there's lots of fans there to chat about new uploads with. Plus I and the team are much more active there! Secondly, we're revamping the Patreon Friday! You can read all about the changes and updates here but in short: some high-effort-low-value rewards are going away, commissions are getting refreshed, and we're aiming for a better life/work balance for me! We'll be doing the revamp live on Friday on our Twitch at 1pm PST. Go check it out -- and maybe pledge?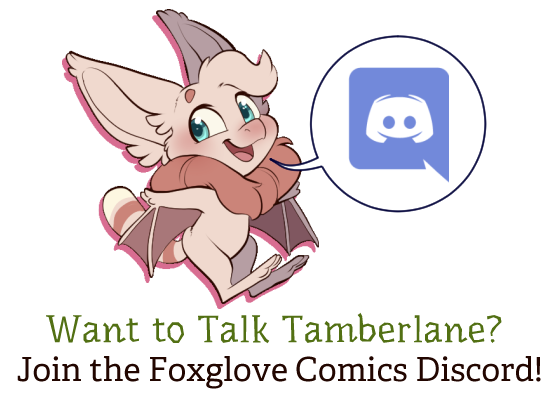 Transcript
OAKEWOOD: Milo?
JASON: Some boffin we picked up in Piou.
JASON: Reads three books a day. Can you believe it.
OAKEWOOD: I am a librarian.
JASON: Then you'll get along great!
TAMBERLANE: I'm hungry. Peas?
OAKEWOOD: When we get back, Snapdragon.
JASON: Great Scott! It talks!
OAKEWOOD: Of course she can talk, you ninny! Does she look like a simple animal?
JASON: Well, no...
OFFSCREEN: Uncle Claude?
OAKEWOOD: Milo?
JASON: So ein Eierkopf, den wir in Piou aufgegabelt haben.
JASON: Liest drei Bücher am Tag. Glaubt man's?.
OAKEWOOD: Ich bin ein Bibliothekar.
JASON: Na, dann werdet ihr euch ja prächtig verstehen!
TAMBERLANE: Ich hab Hunger. Erbsen?
OAKEWOOD: Wenn wir zuhause sind, Kleines.
JASON: Grosser Scott! Es spricht!
OAKEWOOD: Natürlich kann sie sprechen, du Trottel! Sieht sie für dich wie ein einfaches Tier aus?
JASON: Nunja, nein...
OFFSCREEN: Onkel Claude?
OAKEWOOD: Milo?
JASON: Um sabichão que pegamos em Piou.
JASON: Lê três livros por dia. Consegue acreditar.
OAKEWOOD: Eu sou um bibliotecário.
JASON: Então vocês vão se dar bem!
TAMBERLANE: Tô com fome. Ervilhas?
OAKEWOOD: Quando voltarmos, chuchu.
JASON: Cruzes! Isso fala!
OAKEWOOD: Claro que ela fala, seu idiota! Ela parece como um animal simples?
JASON: Bem, não...
OFFSCREEN: Tio Claude?
Languages
Submit a Transcript