Author's Notes:
Get a load of that smug smile! $5+ patrons got a phone wallpaper version of that panel!
Our Patreon just got a big revamp! If you enjoy Tamberlane and want to support its creation, I recommend checking it out!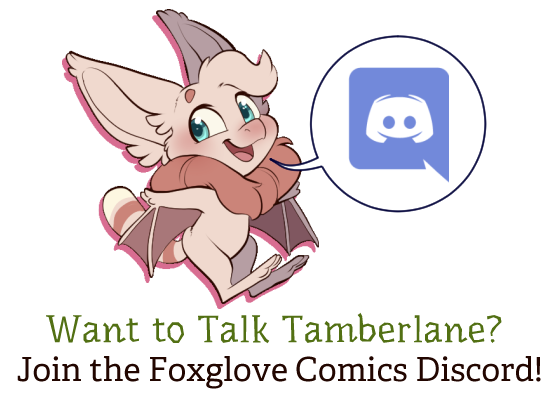 Transcript
BELFRY: But what if I mess up? I never planned for a partner, much less a kit.
OAKEWOOD: When you mess up, you'll roll with it.
OAKEWOOD: And so will she. Kids are resilient.
BELFRY: But what if-
OAKEWOOD: Your choices are keep her or put her back.
OAKEWOOD: Anyway, you can't possibly believe that being in your care is worse than starving alone in the woods.
BELFRY: Haha, I guess that's true.
BELFRY: Mas e se eu errar? Eu nunca planejei para um parceiro, muito menos um filhote.
OAKEWOOD: Quando você errar, você vai ir com isso.
OAKEWOOD: E ela também. Crianças são resilientes.
BELFRY: Mas e se-
OAKEWOOD: Suas escolhas são ficar com ela ou botar ela de volta.
OAKEWOOD: De qualquer jeito, eu não consigo possívelmente acreditar que ficar no seu cuidado é pior que morrer de fome sozinho na floresta.
BELFRY: Haha, eu acho que isso é verdade.
Languages
Submit a Transcript