Author's Notes:
Hello again, Terra and Maya! Two lovely Patreon cameos thanks to Michael "Neon Noble" Nicolosi and Skye "Kittypup" Aisling! And they're SMOOCHIN!
This page brings Chapter 2's page count up past Chapter 1's. Huzzah!!
Our Patreon just got a big revamp! If you enjoy Tamberlane and want to support its creation, I recommend checking it out!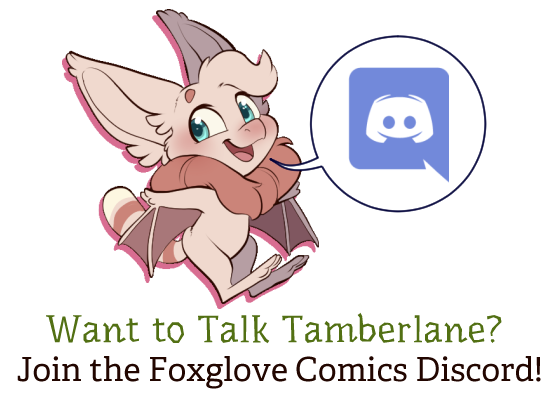 Transcript
BELFRY: I jus--
HENRY: GUYS!
HENRY: We have a lead!
TERRA: Really? A brown, furless kit?
MAYA: Yes! Marie's with them.
MAYA: They went down to the river, not too long ago.
TERRA: Oh, Maya, I love you!
MAYA: Hee! I love you too, darling!
BELFRY: Ich ha--
HENRY: LEUTE!
HENRY: Wir haben eine Spur!
TERRA: Sicher? Ein braunes, pelzloses Kind?
MAYA: Ja! Marie ist bei ihm.
MAYA: Sie sind runter zum Fluss, gar nicht lang her.
TERRA: Oh, Maya, Ich liebe dich!
MAYA: Hihi! Ich dich auch, mein Schatz!
BELFRY: Eu só--
HENRY: GALERA!
HENRY: A gente tem uma pista!
TERRA: Realmente? Um filhote marrom e sem pelos?
MAYA: Sim! A Marie está com eles.
MAYA: Eles desceram pro rio, não faz muito tempo.
TERRA: Ah, Maya, Eu te amo!
MAYA: Hee! Também te amo, querida!
Languages
Submit a Transcript