Author's Notes:
As you do.
Support Tamberlane on Patreon! For $1 a month, you get to see comic pages a week earlier than everyone else. Feeling cool? You can donate more to get cool rewards like seeing pages up to a month ahead, character cameos, movie night, monthly postcards, and more! What are you waiting for? Join the cool club!
Our Patreon just got a big revamp! If you enjoy Tamberlane and want to support its creation, I recommend checking it out!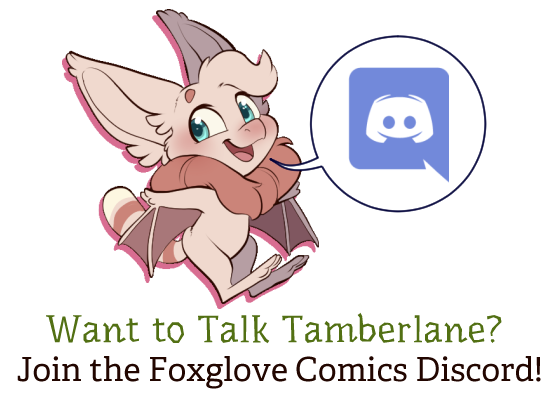 Transcript
PENNY: Piper.
PIPER: Penny.
PIPER: Oh~! I see you're spending time with Treehollow's own ghostie!
PENNY: Yeah, about that!
PENNY: Why's she so scared of you?!
PIPER: Oh, that's probably 'cuz I pushed it into the ravine.
PENNY: You WHAT?!
PIPER: Well, I thought it was a ghost at the time.
PENNY: Piper.
PIPER: Penny.
PIPER: Oh~! Wie ich sehe, verbringst du Zeit mit Treehollow's eigenem Geist!
PENNY: Ach ja, apropos!
PENNY: Warum hat sie so Angst vor dir?!
PIPER: Oh, wahrscheinlich, weil ich sie in die Schlucht geschubst hab?
PENNY: Du hast WAS?!
PIPER: Nun, da dachte ich ja auch noch, es wär ein Geist.
PENNY: Piper.
PIPER: Penny.
PIPER: Oh~! Vejo que você está passando tempo com a própria fantasminha de Treehollow!
PENNY: É, sobre isso!
PENNY: Por quê ela tem tanto medo de você?!
PIPER: Ah, provavelmente porquê eu empurrei ela na ravina.
PENNY: Você O QUÊ?!
PIPER: Bem, eu pensei que era um fantasma na hora.
Languages
Submit a Transcript