Author's Notes:
Just a little nighttime jaunt. What could go wrong?
Thank you to Chaon (Cur), Jonas (Jonas), and Ashley (Kira) for your patron cameos! And thank you to Lauren Pierre for flatting this page!
Hey all! Most important news: on Friday, the comments and forum on this site are going to be taken down and discontinued. I don't have the energy to properly moderate and cultivate the space, so we're going to instead be directing folks to the Foxglove Comics Discord! It's a well-moderated space and there's lots of fans there to chat about new uploads with. Plus I and the team are much more active there! Secondly, we're revamping the Patreon Friday! You can read all about the changes and updates here but in short: some high-effort-low-value rewards are going away, commissions are getting refreshed, and we're aiming for a better life/work balance for me! We'll be doing the revamp live on Friday on our Twitch at 1pm PST. Go check it out -- and maybe pledge?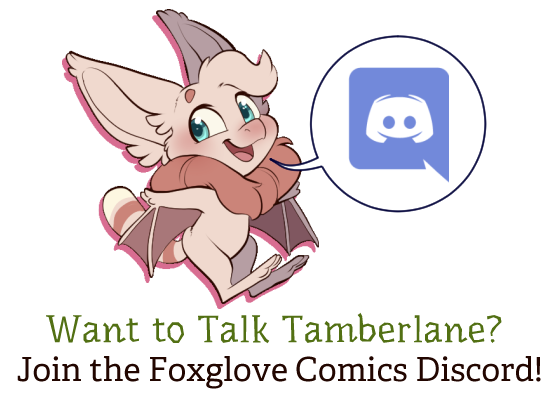 Transcript
JONAS: Nice out, isn't it? Crisp.
KIRA: Yeah. Nice to just hang out with you lot away from erryone else.
KIRA: I hate school trips. Everyone's all on your back all the time.
CUR: Yeah, but that prank was pretty funny, innit?
KIRA: I love it when they run around!
JONAS: Tchyeah!
CUR: I prolly shouldn't've tripped Piper, though. Didn't mean to actually hurt her...
KIRA: I don't love it when they cry.
JONAS: Yeah...
CUR: Ah, well. Serves her right for bein' a prig.
JONAS: Schön hier draussen, oder? Frisch.
KIRA: Ja. Schön, einfach mit euch abzuhängen, weg von den Andern.
KIRA: Ich hasse Schulfahrten. Jeder sitzt dir die ganze Zeit im Nacken.
CUR: Klar, aber der kleine Streich vorhin war ziemlich lustig, was?
KIRA: Wie die gerannt sind! Echt cool!
JONAS: Tchja!
CUR: Ich hätt' Piper vielleicht kein Bein stellen sollen. Wollt' sie ja nich' richtig verletzen...
KIRA: Sie zum Weinen zu bringen ist weniger cool..
JONAS: Ja...
CUR: Ach naja. Geschieht ihr Recht dafür, so fies zu sein.
JONAS: Bom aqui fora, não é? Fresco.
CUR: É. Massa ficar com vocês longe do resto da cambada.
KIRA: Eu odeio os passeios da escola. Todo mundo pega no seu pé o tempo todo.
CUR: É, mas aquela pegadinha foi bem engraçada, né?
KIRA: Eu amo quando eles correm!
JONAS: Éee!
CUR: Mas eu provavelmente não devia ter tropeçado a Piper. Eu não queria machucar ela de verdade...
KIRA: Eu não amo quando eles choram.
JONAS: É...
CUR: Ah, bem. Quem mandou ela ser vacilona.
Languages
Submit a Transcript