Author's Notes:
Cur and co might be jerks, but they also can never catch a break! Sheesh!!
Thanks as always to Chaon (Cur), Jonas (Jonas), and Kira (Ashley) for their cameos! And thanks to Knack Whittle for flatting!
---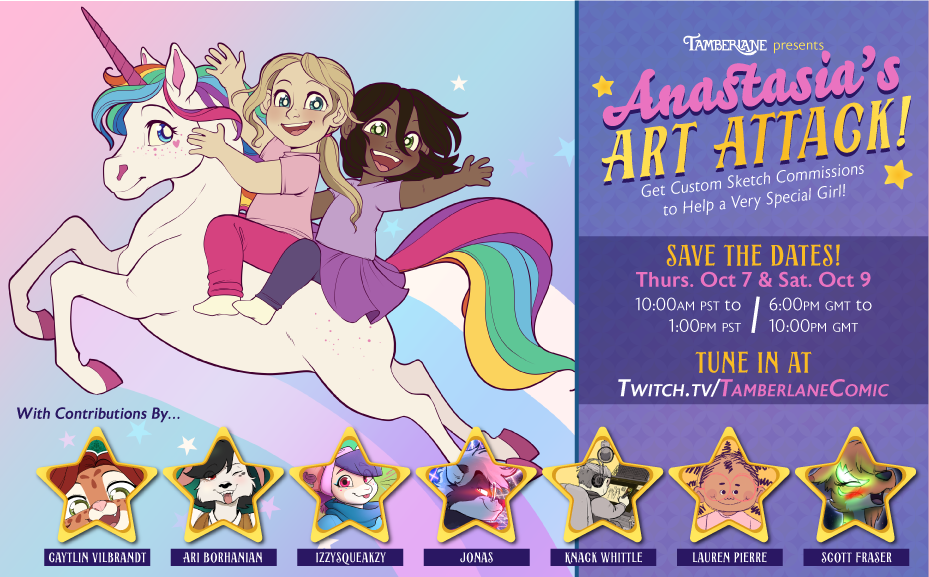 Join us for ANASTASIA'S ART ATTACK!
Save the Dates! On Thurs. Oct. 7 and Sat. Oct. 9, 10am-1PM PST, the Tamberlane Twitch channel will be holding a charity stream to help a special little girl, Anastasia! Join a handful of your favorite artists to get some art and raise money in this special charity event!
---
Transcript
BELFRY: Are you hurt?!
BELFRY: They didn't hurt you, did they?!
BELFRY: Thank goodness! I was so worried!
ANTHONY: Miss Belfry, they hurt Piper!
BELFRY: Who hurt Piper??
TAMBERLANE: Rrrgh!
BELFRY: You little jerks did this, didn't you?!
BELFRY: And you upset Tamberlane, too!!
CUR: What?!
TAMBERLANE: rrrrRRR
KIRA: That's not fair!
CUR: Yeah, she was bullying us!
JONAS: Lookit her! She's tryin' to kill us!
TAMBERLANE: AWAARA
BELFRY: Você tá machucada?!
BELFRY: Eles não te machuram, não?!
BELFRY: Ainda bem! Eu estava tão preocupada!
ANTHONY: Senhora Belfry, eles machucaram a Piper!
BELFRY: Quem machucou a Piper??
TAMBERLANE: Rrrgh!
BELFRY: Vocês babaquinhas que fizeram isso, não?!
BELFRY: E vocês chatearam a Tamberlane, também!!
CUR: Quê?!
TAMBERLANE: rrrrRRR
KIRA: Isso não é justo!
CUR: É, ela tava encrencando com a gente!
JONAS: Dá uma olhada nela! Ela tá tentando matar a gente!
TAMBERLANE: AWAARA
Languages
Submit a Transcript