Author's Notes:
Cur and co might be jerks, but they also can never catch a break! Sheesh!!
Thanks as always to Chaon (Cur), Jonas (Jonas), and Kira (Ashley) for their cameos! And thanks to Knack Whittle for flatting!
Hey all! Most important news: on Friday, the comments and forum on this site are going to be taken down and discontinued. I don't have the energy to properly moderate and cultivate the space, so we're going to instead be directing folks to the Foxglove Comics Discord! It's a well-moderated space and there's lots of fans there to chat about new uploads with. Plus I and the team are much more active there! Secondly, we're revamping the Patreon Friday! You can read all about the changes and updates here but in short: some high-effort-low-value rewards are going away, commissions are getting refreshed, and we're aiming for a better life/work balance for me! We'll be doing the revamp live on Friday on our Twitch at 1pm PST. Go check it out -- and maybe pledge?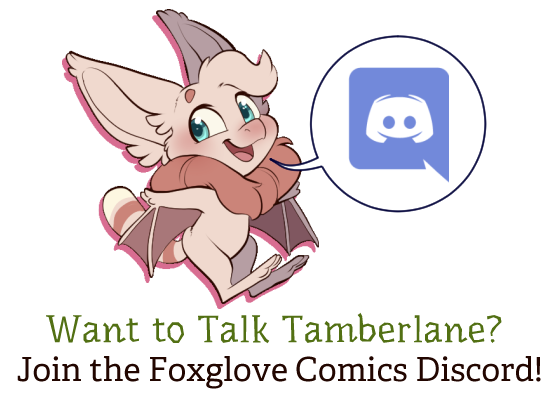 Transcript
BELFRY: Are you hurt?!
BELFRY: They didn't hurt you, did they?!
BELFRY: Thank goodness! I was so worried!
ANTHONY: Miss Belfry, they hurt Piper!
BELFRY: Who hurt Piper??
TAMBERLANE: Rrrgh!
BELFRY: You little jerks did this, didn't you?!
BELFRY: And you upset Tamberlane, too!!
CUR: What?!
TAMBERLANE: rrrrRRR
KIRA: That's not fair!
CUR: Yeah, she was bullying us!
JONAS: Lookit her! She's tryin' to kill us!
TAMBERLANE: AWAARA
BELFRY: Bist du verletzt?!
BELFRY: Sie haben dir nichts getan, oder?!
BELFRY: Dem Himmel sei Dank, ich hab mir solche Sorgen gemacht!
ANTHONY: Frau Belfry, sie haben Piper wehgetan!
BELFRY: Wer hat das getan??
TAMBERLANE: Rrrgh!
BELFRY: Ihr kleinen Fieslinge wart das, nicht wahr?!
BELFRY: Und ihr habt Tamberlane traurig gemacht!!
CUR: Was?!
TAMBERLANE: rrrrRRR
KIRA: Das ist nicht fair!
CUR: Ja, sie hat uns geärgert!
JONAS: Schau sie nur an! Sie wollte uns umbringen!
TAMBERLANE: AWAARA
BELFRY: Você tá machucada?!
BELFRY: Eles não te machuram, não?!
BELFRY: Ainda bem! Eu estava tão preocupada!
ANTHONY: Senhora Belfry, eles machucaram a Piper!
BELFRY: Quem machucou a Piper??
TAMBERLANE: Rrrgh!
BELFRY: Vocês babaquinhas que fizeram isso, não?!
BELFRY: E vocês chatearam a Tamberlane, também!!
CUR: Quê?!
TAMBERLANE: rrrrRRR
KIRA: Isso não é justo!
CUR: É, ela tava encrencando com a gente!
JONAS: Dá uma olhada nela! Ela tá tentando matar a gente!
TAMBERLANE: AWAARA
Languages
Submit a Transcript