Author's Notes:
Holy heck, working on that background took FOREVERRRRR. But man am I ever proud of it!! Enjoy this scene transition at Bally Bluffs!
Special thanks to the following patrons for their cameos: Ashley Nichols (Kira), Jonas (Jonas), and Chaon (Cur)!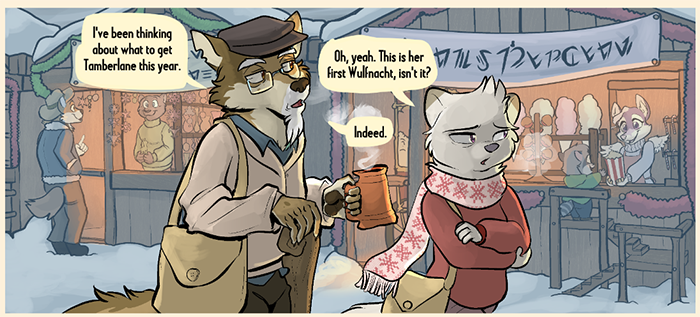 Coming up for December: Pledge at least $5+ before Dec. 5 to get access to "A Glow in the Dark", a bonus comic by Jonas! This 5-page comic follows Ainsley as they deal with seasonal depression and holiday shopping. In addition to December's bonus comic, you'll also gain access to a special extra holiday page that was a patron-exclusive last year, and a write-up of the lore behind Wulfnacht, Treehollow's winter holiday! Pledge today!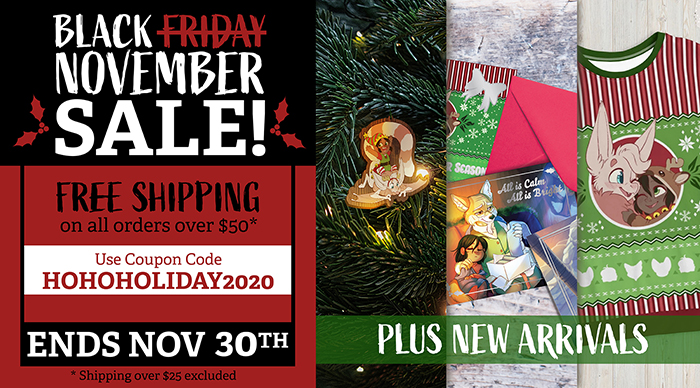 Real quick: I've also uploaded some new holiday merch to the store! There's also a free shipping sale goin' on as well for the rest of November. Be sure to check out the shop for some fun gifts for friends and family this season!
Transcript
PIPER: And then it was like FWOOOOSH!
ANTHONY: Did you see Dad's face? It was brilliant!
BELFRY: I haven't seen Tamberlane since we arrived...
BELFRY: I hope the rest of the ride was okay...
OFF-SCREEN: Belfry!
NORA: Tamberlane was fine.
NORA (Off-Screen): She had a lovely time with Penny and Marie.
PIPER: Und dann flog er wie WUUUSCH!
ANTHONY: Hast du Papa's Gesicht gesehen? Das war genial!
BELFRY: Ich habe Tamberlane seit unserer Ankunft nicht mehr gesehen...
BELFRY: Ich hoffe die restliche Fahrt war für sie okay...
OFF-SCREEN: Belfry!
NORA: Tamberlane ging es gut.
NORA (Off-Screen): Sie hatte eine wundervolle Zeit mit Penny und Marie.
PIPER: E então foi tipo FWOOOOSH!
ANTHONY: Você viu a cara do pai? Foi brilhante!
BELFRY: Eu não vi a Tamberlane desde que chegamos...
BELFRY: Eu espero que o resto da viajem foi ok...
FORA: Belfry!
NORA: A Tamberlane ficou bem.
NORA (Fora): Ela se divertiu bastante com a Penny e a Marie.
Languages
Edit this Transcript
Submit a Transcript