Author's Notes:
Look at all these Patreon cameos:
The little pink kangaroo mouse is Mimfry, patreon cameo of StarshineBeast!
The mail squirrel is Aria, patreon cameo of Steve Streza!
The deer cameo is Becca, patreon cameo of Specs AK!
And the panther cameo is Isaiah, patreon cameo of NoteWorthy!
Thanks so much for your support, you guys!!
Our Patreon just got a big revamp! If you enjoy Tamberlane and want to support its creation, I recommend checking it out!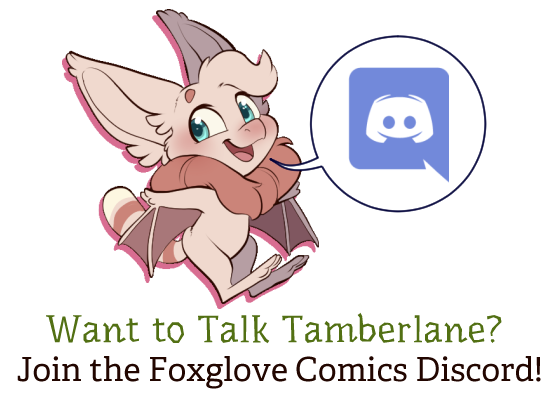 Transcript
WALTER: Here returns Auntie Briar!
TAMBERLANE: Briar!
TESS: Belfry! You've ruined those pies!
BELFRY: And who started that?!
TESS: Well, maybe if you weren't yelling at me!
PANTHER: Are the Bakers still fighting?
SQUIRREL: I'm still delivering Belfry's mail at the Library, so...
DEER: Poor Briar!
KANGAROO-MOUSE: I wonder if flowers might help?
BRIAR: WILL YOU TWO GROW UP!?
BRIAR: I swear, sometimes I feel like the only adult in this family.
WALTER: Добро пожаловать назад, оленька
TESS: Спасибо, Папочка
TAMBERLANE: What?
WALTER: Da hinten kommt Tante Briar!
TAMBERLANE: Briar!
TESS: Belfry! Jetzt hast du die Kuchen ruiniert!
BELFRY: Und wer hat angefangen?!
TESS: Schrei mich nicht so an!
PANTHER: Streiten sich die Bakers immer noch?
EICHHÖRNCHEN: Ich glaube schon, ich bringe Belfrys Post immer noch zur Bibliothek...
HIRSCH: Arme Briar!
KÄNGURUH-MAUS: Ob vielleicht Blumen helfen könnten?
BRIAR: WERDET ENDLICH ERWACHSEN!!
BRIAR: Ehrlich, manchmal glaub ich, ich bin die einzige Erwachsene in dieser Familie.
WALTER: Добро пожаловать назад, оленька.
(Willkommen zuhause, Olenka.)
TESS: Спасибо, Папочка.
(Danke, Papa.)
TAMBERLANE: Was?
WALTER: Aqui volta a Titia Briar!
TAMBERLANE: Briar!
TESS: Belfry! Você arruinou essas tortas!
BELFRY: E quem começou isso?!
TESS: Bem, talvez se você não estivesse gritando comigo!
PANTERA: Os Bakers ainda estão brigando?
ESQUILO: Eu ainda estou entregando o correio da Belfry na Biblioteca, então...
VEADO: Pobre Briar!
RATO-CANGURU: Me pergunto se flores ajudariam?
BRIAR: VOCÊS DUAS PODEM AMADURECER!?
BRIAR: Sério, as vezes eu acho que sou a única adulta nessa família.
WALTER: Добро пожаловать назад, оленька
TESS: Спасибо, Папочка
Languages
Submit a Transcript