Author's Notes:
Oake is so thrilled to be there!
Our Patreon just got a big revamp! If you enjoy Tamberlane and want to support its creation, I recommend checking it out!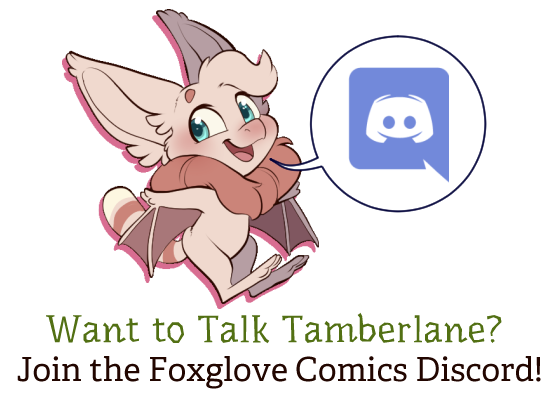 Transcript
AVERY: Unfortunately, I'm going to be too busy with last-minute booth preparations tomorrow to take Piper and Anthony to meet him at the docks.
AVERY: I don't suppose you'd be able to take them, would you?
BELFRY: Ugn.
BELFRY: I would love to, but I have to help my Mum tomorrow morning.
BELFRY: But...
BELFRY: I bet Oakewood will be happy to!
AVERY: Dummerweise werde ich morgen zu sehr mit den letzten Vorbereitungen für den Feststand beschäftigt sein, um Piper und Anthony zu den Docks zu bringen.
AVERY: Du hättest nicht zufällig Zeit, sie hinzubringen, oder?
BELFRY: Seufz
BELFRY: Würd ich ja, aber morgen früh muss ich schon meiner Mum mit dem Stand helfen.
BELFRY: Obwohl...
BELFRY: Ich wette, Oakewood macht das bestimmt gerne!
AVERY: Infelizmente, eu vou estar ocupada demais com as preparações de última hora do quiosque amanhã pra levar a Piper e o Anthony pra encontrar ele nas docas.
AVERY: Eu não suponho que você poderia levar eles, poderia?
BELFRY: Ugh.
BELFRY: Eu amaria, mas eu tenho que ajudar a minha Mãe amanhã de manhã.
BELFRY: Mas...
BELFRY: Eu aposto que o Oakewood ficaria feliz em te ajudar!
Languages
Submit a Transcript