Author's Notes:
D'aww. Sisters Against Mad Mums.
Our Patreon just got a big revamp! If you enjoy Tamberlane and want to support its creation, I recommend checking it out!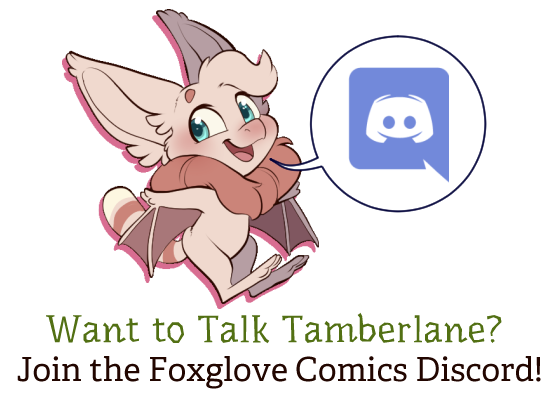 Transcript
BELFRY: How about this? I'll write Mum a letter that you can just hand her, and therefore avoid the crossfire?
BRIAR: You know she'll ask me why I didn't try to convince you.
BELFRY: I promise I'll add something in about that.
BRIAR: Yeah, all right.
BRIAR: Thanks, Bel.
BELFRY: Anything for my little sister!
BELFRY: Wie wär's damit: ich schreibe Mum einen Brief, den du ihr nur zu geben brauchst, und bist raus aus der Schusslinie?
BRIAR: Du weisst, dass sie mich fragen wird, warum ich dich nicht versucht habe zu überreden?
BELFRY: Dann schreib ich dazu auch was in den Brief.
BRIAR: Okay, einverstanden.
BRIAR: Danke, Bel.
BELFRY: Alles für meine kleine Schwester!
BELFRY: Que tal assim? Eu escrevo uma carta pra mãe que você pode só dar pra ela, e desse jeito sair da linha de fogo?
BRIAR: Você sabe que ela vai me perguntar por que eu não tentei te convencer.
BELFRY: Eu prometo que vou colocar alguma coisa sobre isso.
BRIAR: É, beleza.
BRIAR: Obrigada, Bel.
BELFRY: Qualquer coisa pra minha irmãzinha!
Languages
Submit a Transcript