Author's Notes:
Oh boy, an argument! Sounds like... fun?? Frankly, Cur has some good points.
Thank you to Chaon (Cur), Jonas (Jonas), and Ashley (Kira) for your patron cameos! And thank you to Lauren Pierre for flatting this page!
Hey all! Most important news: on Friday, the comments and forum on this site are going to be taken down and discontinued. I don't have the energy to properly moderate and cultivate the space, so we're going to instead be directing folks to the Foxglove Comics Discord! It's a well-moderated space and there's lots of fans there to chat about new uploads with. Plus I and the team are much more active there! Secondly, we're revamping the Patreon Friday! You can read all about the changes and updates here but in short: some high-effort-low-value rewards are going away, commissions are getting refreshed, and we're aiming for a better life/work balance for me! We'll be doing the revamp live on Friday on our Twitch at 1pm PST. Go check it out -- and maybe pledge?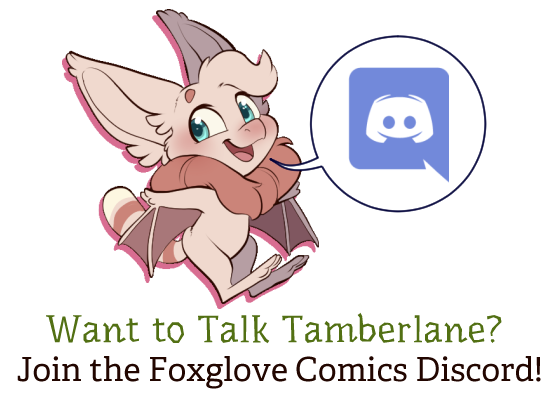 Transcript
TAMBERLANE: You hurt Piper! Hurting creatures is BAD!
CUR: Me?? Piper hurts creatures all the time!
CUR: You just don't care 'cuz she don't mess with you anymore!
TAMBERLANE: She doesn't make kits cry!! I just want you to STOP!!
CUR: Obviously! I saw you curlin' yer paw into a fist!
CUR: Ooo, I'm Tamberlane! I don't hurt no one!
CUR: Bollocks and tosh!
TAMBERLANE: Well, you had to STOP!
CUR: I DID STOP! You were gonna HIT ME ANYWAYS!
TAMBERLANE: SAY YOU'RE SORRY!
CUR: Oh, you want me to say I'm sorry??
KIRA: Forget her, she's a freak! Let's get outta here 'fore we get into trouble again!
JONAS: Yeah, who cares what she thinks?
TAMBERLANE: Du hast Piper wehgetan. Lebewesen wehtun ist BÖSE!
CUR: Ich?? Piper tut anderen ständig weh!
CUR: Dich interessiert's nur nicht, weil sie dich jetzt in Ruhe lässt!
TAMBERLANE: Sie bringt andere nicht zum Weinen!! Ich will nur, dass du AUFHÖRST!!
CUR: Natürlich! Ich hab doch vorhin deine Faust gesehen!
CUR: Ooh, ich bin Tamberlane! Ich tuh keinem was weh!
CUR: Gelaber und Getue!
TAMBERLANE: Du musstest aber AUFHÖREN!
CUR: ICH HAB AUFGEHÖRT! Du wolltest mich TROTZDEM SCHLAGEN!
TAMBERLANE: SAG ES TUT DIR LEID!!
CUR: Oh, du willst, dass ich mich entschuldige??
KIRA: Vergiss sie, sie ist irre! Hauen wir ab b'vor wir wieder eins drüber kriegen!
JONAS: Ja, wen interessiert schon was sie denkt?
TAMBERLANE: Você machucou a Piper! Machucar criaturas é RUIM!
CUR: Eu?? A Piper machuca criaturas toda hora!
CUR: Você só não tá nem aí por quê ela não enche você mais!
TAMBERLANE: Ela não faz filhotes chorarem!! Eu só quero que você PARE!!
CUR: Óbvio! Eu vi você fazendo um punho com a sua pata!
CUR: Ooo, Eu sou a Tamberlane! Eu não machuco ninguém!
CUR: Mó besteira!
TAMBERLANE: Bem, você tinha que PARAR!
CUR: EU PAREI! Você ainda ia ME BATER!
TAMBERLANE: PEDE DESCULPA!
CUR: Oh, você quer que eu peça desculpa??
KIRA: Deixa ela, ela é esquisita! Bora dar o pé antes que a gente se encrenque!
JONAS: É, quem se importa com oque ela pensa?
Languages
Submit a Transcript