Author's Notes:
Uh oh. Tam's steppin UP!
Thank you to Chaon (Cur), Jonas (Jonas), and Ashley Nichols (Kira) for your patreon cameos! And thank you to Knack Whittle for flatting!
Hey all! Most important news: on Friday, the comments and forum on this site are going to be taken down and discontinued. I don't have the energy to properly moderate and cultivate the space, so we're going to instead be directing folks to the Foxglove Comics Discord! It's a well-moderated space and there's lots of fans there to chat about new uploads with. Plus I and the team are much more active there! Secondly, we're revamping the Patreon Friday! You can read all about the changes and updates here but in short: some high-effort-low-value rewards are going away, commissions are getting refreshed, and we're aiming for a better life/work balance for me! We'll be doing the revamp live on Friday on our Twitch at 1pm PST. Go check it out -- and maybe pledge?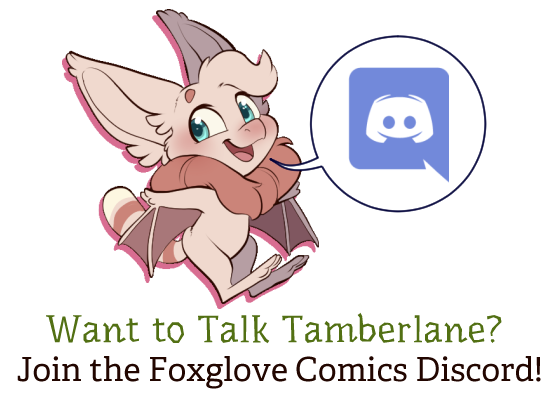 Transcript
CUR: You should have seen the look on your face!
CUR: Priceless!
PIPER: Sh... Shut up!
PIPER: It was just 'cause of Artie and Hattie's story!
CUR: Their story 'bout Longwalkers?
CUR: That's a baby story, made up to scare babies!
CUR: You a widdle baby, Piper?
PIPER: I-- I'm not a baby!
PIPER: You take that back!!
TAMBERLANE: CUR! STOP!!
CUR: Ihr hättet eure Gesichter sehen sollen!
CUR: Unbezahlbar!
PIPER: Ha... Halt die Klappe!
PIPER: Das war nur wegen Arties und Hatties Geschichte!
CUR: Denen ihre Geschichte über Langwandler?
CUR: Das ist eine Babygeschichte, die Babys Angst machen soll!
CUR: Bist du ein kleines Baby, Piper?
PIPER: I-- Ich bin kein Baby!
PIPER: Nimm das zurück!!
TAMBERLANE: CUR! STOP!!
CUR: Você devia ter visto a tua cara!
CUR: Não tem preço!
PIPER: Ca... Cala a boca!
PIPER: Foi só por causa da história da Artie e Hattie!
CUR: A história delas dos Andalongos?
CUR: Essa daí é uma história de bebê, feita pra assustar bebês!
CUR: Cê é uma bebêzinha, Piper?
PIPER: Eu-- Eu não sou um bebê!
PIPER: Retira o que você disse!!
TAMBERLANE: CUR! PARA!!
Languages
Submit a Transcript