Author's Notes:
Uh oh. Tam's steppin UP!
Thank you to Chaon (Cur), Jonas (Jonas), and Ashley Nichols (Kira) for your patreon cameos! And thank you to Knack Whittle for flatting!
---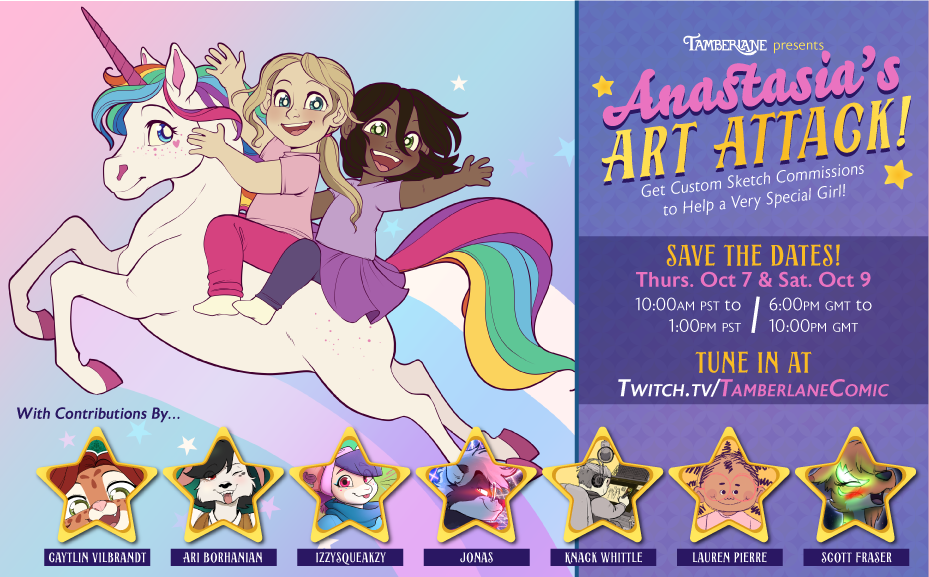 Join us for ANASTASIA'S ART ATTACK!
Save the Dates! On Thurs. Oct. 7 and Sat. Oct. 9, 10am-1PM PST, the Tamberlane Twitch channel will be holding a charity stream to help a special little girl, Anastasia! Join a handful of your favorite artists to get some art and raise money in this special charity event!
---
Transcript
CUR: You should have seen the look on your face!
CUR: Priceless!
PIPER: Sh... Shut up!
PIPER: It was just 'cause of Artie and Hattie's story!
CUR: Their story 'bout Longwalkers?
CUR: That's a baby story, made up to scare babies!
CUR: You a widdle baby, Piper?
PIPER: I-- I'm not a baby!
PIPER: You take that back!!
TAMBERLANE: CUR! STOP!!
CUR: Você devia ter visto a tua cara!
CUR: Não tem preço!
PIPER: Ca... Cala a boca!
PIPER: Foi só por causa da história da Artie e Hattie!
CUR: A história delas dos Andalongos?
CUR: Essa daí é uma história de bebê, feita pra assustar bebês!
CUR: Cê é uma bebêzinha, Piper?
PIPER: Eu-- Eu não sou um bebê!
PIPER: Retira o que você disse!!
TAMBERLANE: CUR! PARA!!
Languages
Submit a Transcript