Author's Notes:
Oops, Milo got distracted!
I hope you guys enjoyed the little bit of guest art! I had a good birthday week that allowed me to take it slightly easy but still catch up on lots of work that needed doing!
Happy early Christmas, y'all -- hope it's as bright as it can be this year!
Hey all! Most important news: on Friday, the comments and forum on this site are going to be taken down and discontinued. I don't have the energy to properly moderate and cultivate the space, so we're going to instead be directing folks to the Foxglove Comics Discord! It's a well-moderated space and there's lots of fans there to chat about new uploads with. Plus I and the team are much more active there! Secondly, we're revamping the Patreon Friday! You can read all about the changes and updates here but in short: some high-effort-low-value rewards are going away, commissions are getting refreshed, and we're aiming for a better life/work balance for me! We'll be doing the revamp live on Friday on our Twitch at 1pm PST. Go check it out -- and maybe pledge?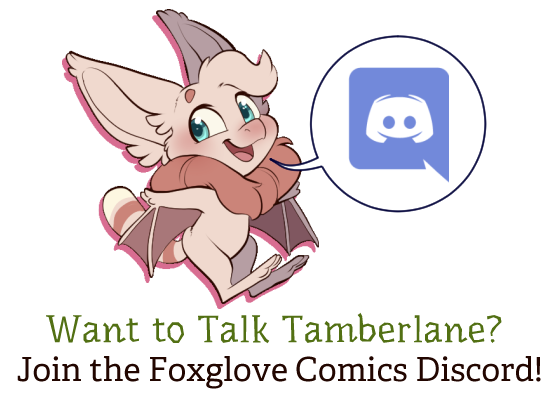 Transcript
OAKEWOOD: Tamberlane can't be unique! She can't have sprung from nothing!
OAKEWOOD: But I'm running out of ideas!
MILO: Mmhmm.
OAKEWOOD: I've checked nearly every book I can think of!
OAKEWOOD: We need a new tactic. Come on, boy, spit out some ideas.
MILO: Mmm.
OAKEWOOD: What are you reading that's so damned interesting?
MILO: Oh, uh-- Sorry, Uncle!
MILO: It's nothing, really!
OAKEWOOD: Tamberlane kann nicht einzigartig sein! Sie kann nicht einfach aus dem Nichts aufgetaucht sein!
OAKEWOOD: Aber mir gehen die Ideen aus!
MILO: Mmhmm.
OAKEWOOD: Ich hab fast jedes Buch durchsucht, dass mir einfällt!
OAKEWOOD: Wir brauchen eine neue Taktik. Komm schon, Junge, lass mal ein paar gute Ideen hören.
MILO: Mmm.
OAKEWOOD: Was liest du da so interessantes, dass es dich derart fesselt?
MILO: Oh, äh-- Sorry, Onkel!
MILO: Es ist garnichts, wirklich!
OAKEWOOD: A Tamberlane não pode ser única! Ela não ter aparecido do nada!
OAKEWOOD: Mas eu estou ficando sem idéias!
MILO: Mmhmm.
OAKEWOOD: Eu já chequei todo livro que eu posso pensar!
OAKEWOOD: Precisamos de uma tática nova. Vamos lá, garoto, arrota umas idéias.
MILO: Mmm.
OAKEWOOD: O que você está lendo que é tão interessante?
MILO: Ah, ã-- Desculpa, Tio!
MILO: Não é nada, realmente!
Languages
Submit a Transcript