Author's Notes:
Man, the apothecary really needs to sand their crates down. Splinters are no bueno!
Hello again to Twitchel and Rhode, two patreon cameos!
Want to see this page being made? Check it out on YouTube!
Hey all! Most important news: on Friday, the comments and forum on this site are going to be taken down and discontinued. I don't have the energy to properly moderate and cultivate the space, so we're going to instead be directing folks to the Foxglove Comics Discord! It's a well-moderated space and there's lots of fans there to chat about new uploads with. Plus I and the team are much more active there! Secondly, we're revamping the Patreon Friday! You can read all about the changes and updates here but in short: some high-effort-low-value rewards are going away, commissions are getting refreshed, and we're aiming for a better life/work balance for me! We'll be doing the revamp live on Friday on our Twitch at 1pm PST. Go check it out -- and maybe pledge?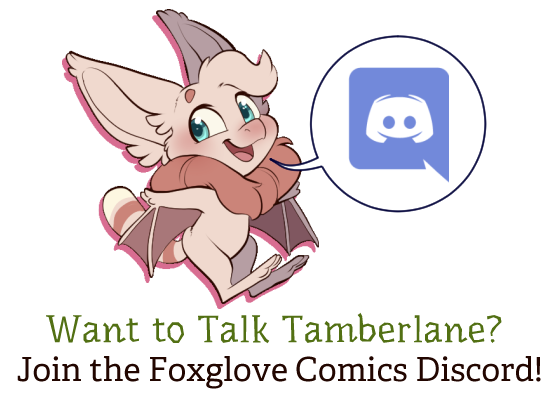 Transcript
OAKEWOOD: TAMBERLANE!!
TAMBERLANE: It okay, Unca!
RHODE: She's alright!
OAKEWOOD: This cub is going to bring me to an early grave.
SFX: WHEEZE
OAKEWOOD: What did I just tell you about helping?
TAMBERLANE: But it fall!
OAKEWOOD: No buts...!
OAKEWOOD: That's it. Experiment's over for today.
TAMBERLANE: But I'm okay!
TWITCHEL: Mister Oakewood, let us patch her up before you go!
OAKEWOOD: TAMBERLANE!!
TAMBERLANE: Ist okay, Onkel!
RHODE: Ihr geht's gut!
OAKEWOOD: Die Kleine bringt mich noch ins Grab.
SFX: KEUCH
OAKEWOOD: Was hab ich gerade übers Helfen gesagt?
TAMBERLANE: Aber Kiste fällt!
OAKEWOOD: Kein Aber!
OAKEWOOD: Das war's. Das Experiment ist für heute vorbei.
TAMBERLANE: Aber bin okay!
TWITCHEL: Mister Oakewood, Lassen Sie sie uns noch verbinden, bevor Sie gehen!
OAKEWOOD: TAMBERLANE!!
TAMBERLANE: Tá ok, Tio!
RHODE: Ela tá bem!
OAKEWOOD: Esse filhote vai me dar uma morte prematura.
SFX: OFEGA
OAKEWOOD: O quê eu acabei de te falar sobre ajudar?
TAMBERLANE: Mas caiu!
OAKEWOOD: Sem mas...!
OAKEWOOD: É isso. Sem mais experimento por hoje.
TAMBERLANE: Mas eu tô ok!
TWITCHEL: Senhor Oakewood, nos deixe sarar ela antes de você ir!
Languages
Submit a Transcript