Author's Notes:
They're gonna make sure, huh? Wonder who "they" are?
This marks the first page that Jonas has joined the team as an INKER! Though it's stretching my budget right now, it's definitely picking up the pace for page production! Pages should start coming out faster as we get the kinks worked out of the pipeline. It's very exciting!
If you'd like to help ease the budget and make it easier to get pages out (our goal is to have a fast enough pipeline and a big enough buffer to go to TWO pages a week, though that's a ways off right now!), then here are some ways to support the crew:
* Pledge or Upgrade on Patreon
* One-Time Donation on Ko-Fi or PayPal
* Share the Comic with Others
* Buy Merch from the Shop
If you'd like to support Jonas specifically, might I recommend picking up the Tales from Treehollow side comic he illustrated?
Anyway, in the meantime, I hope you guys just enjoy the pages, regardless! I'm excited to get this story out to you all faster!
Thank you to Cr0oked-Glasses (Jentzen) for your generous cameo!
Hey all! Most important news: on Friday, the comments and forum on this site are going to be taken down and discontinued. I don't have the energy to properly moderate and cultivate the space, so we're going to instead be directing folks to the Foxglove Comics Discord! It's a well-moderated space and there's lots of fans there to chat about new uploads with. Plus I and the team are much more active there! Secondly, we're revamping the Patreon Friday! You can read all about the changes and updates here but in short: some high-effort-low-value rewards are going away, commissions are getting refreshed, and we're aiming for a better life/work balance for me! We'll be doing the revamp live on Friday on our Twitch at 1pm PST. Go check it out -- and maybe pledge?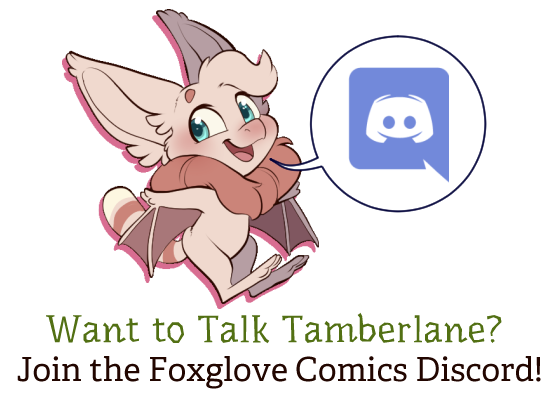 Transcript
GENEVIEVE: Some of us have a plan, okay?
GENEVIEVE: We're going to make sure nothing like this happens again.
GENEVIEVE: I promise.
GENEVIEVE: All right, love?
JENTZEN: I'm scared.
GENEVIEVE: The Council won't banish you, Jentzen.
GENEVIEVE: Not while I'm there.
GENEVIEVE: Alguns de nós tem um plano, ok?
GENEVIEVE: Nós vamos fazer que nada que nem isso aconteça de novo.
GENEVIEVE: Eu prometo.
GENEVIEVE: Tudo bem, amor?
JENTZEN: Estou com medo.
GENEVIEVE: O Conselho não vai te banir, Jentzen.
GENEVIEVE: Não enquanto eu estou lá.
Languages
Submit a Transcript