Author's Notes:
Or: How the Grinch Stole Ghostmas
Drawing Grinch Kira was a lot of fun, and I'm glad Lauren had fun flatting it >w< I fear for what she's planning, though...
Thanks as always to Chaon (Cur), Jonas (Jonas), and Ashley Nichols (Kira) for lending me your cameo!! And thank you to Lauren Pierre for flatting :D
Our Patreon just got a big revamp! If you enjoy Tamberlane and want to support its creation, I recommend checking it out!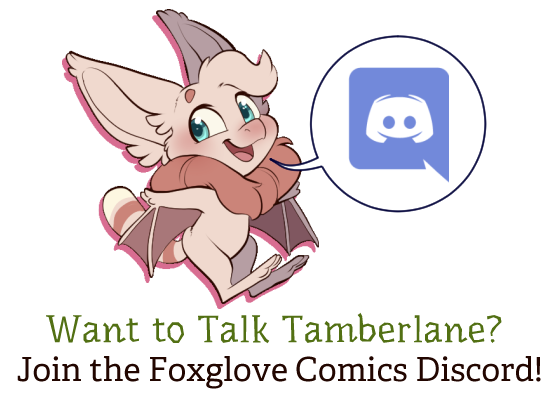 Transcript
CUR: Let's find something better to do.
KIRA: Or...
KIRA: I have the best idea.
CUR: What is it, mate?
KIRA: They're hunting ghosts, right?
CUR: Yeah, fat lot of good it'll do 'em.
JONAS: Tchyeah, ghosts don't exist.
KIRA: Ah, but they do.
CUR: Finden wir einen besseren Zeitvertreib.
KIRA: Oder...
KIRA: Ich habe die beste Idee.
CUR: Was für eine, Kumpel?
KIRA: Die jagen Geister, richtig?
CUR: Ja, als ob das denen was nützen wird.
JONAS: Tchja, Geister gibts nicht.
KIRA: Oh, es gibt sie sehr wohl.
CUR: Bora achar alguma coisa melhor pra fazer.
KIRA: Ou...
KIRA: Eu tenho a melhor idéia.
CUR: O que é, mano?
KIRA: Eles estão caçando fantasmas, né?
CUR: É, vai dar muito certo isso.
JONAS: Tch- é, fantasmas não existem.
KIRA: Ah, mas existem sim.
Languages
Submit a Transcript