Author's Notes:
Back to kids time! Apparently Tamberlane isn't a snowcritter.
---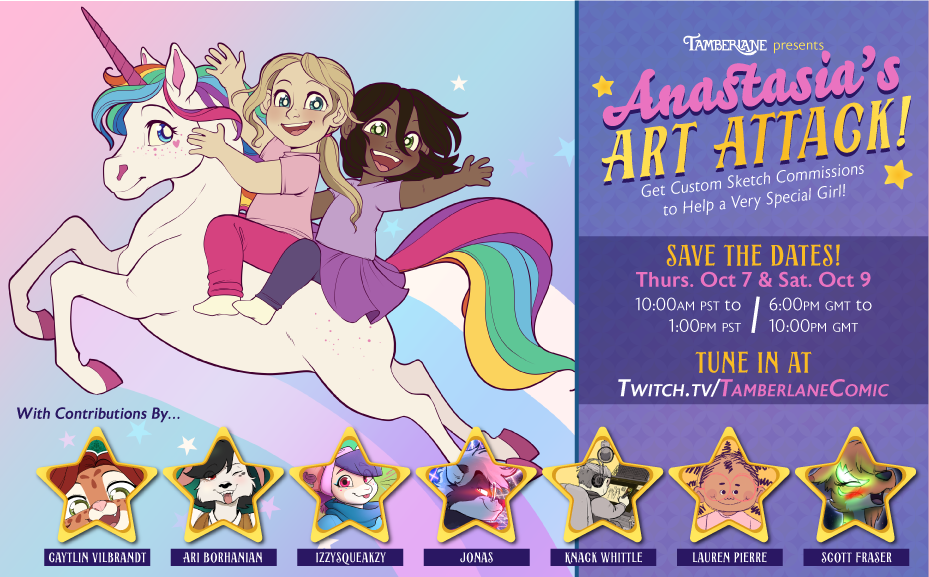 Join us for ANASTASIA'S ART ATTACK!
Save the Dates! On Thurs. Oct. 7 and Sat. Oct. 9, 10am-1PM PST, the Tamberlane Twitch channel will be holding a charity stream to help a special little girl, Anastasia! Join a handful of your favorite artists to get some art and raise money in this special charity event!
---
Transcript
PARSLEY: Lookin' right gorgeous, girls!
MARIE: Ooh, lovely!
PARSLEY: Is that your mum, then?
TAMBERLANE: No, it's me!
PARSLEY: You sure about that, mate?
MARIE: Parsley!
PARSLEY: Tá bonitão, garotas!
MARIE: Ooh, lindo!
PARSLEY: Essa é sua mãe, então?
TAMBERLANE: Não, sou eu!
PARSLEY: Tem certeza, parça?
MARIE: Parsley!
Languages
Submit a Transcript