Author's Notes:
Jason, the oldest, crookediest old salt from the sea. And Piper, the eternal shitchild.
You know what goes next: thank you Zaukodar for lending me Callie, a Patron cameo! And, honestly, thank you to my husband for letting me use his character Jason as well. :3
Meanwhile, did you guys know that I've been commissioning bonus comics from other artists for Tamberlane? These comics are written by me and fully canon, exploring more of the world, characters, and lore of the universe. One new 5-page comic is released a month for $5+ patrons -- and $5+ patrons get to suggest and vote on the comic subjects too!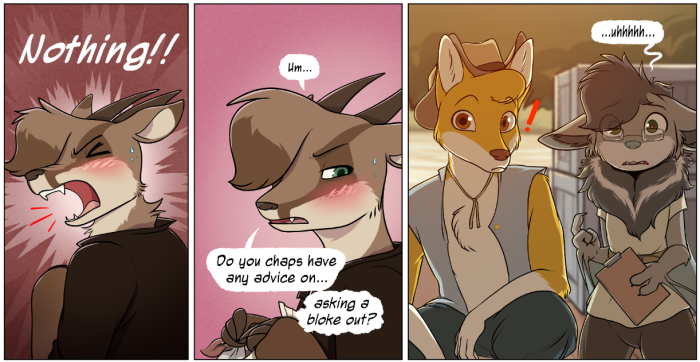 All this to say, there's a new comic coming down the pipe on November 5th* from IzzySqueakzy of Mothorial! It's called "Heart Questions" and it's all about Briar gathering the courage to ask someone out on a date! Just be pledging at $5 or more *on November 5th and you'll get the comic delivered to your messages! And next month, Ainsley deals with their seasonal depression while hunting for Wulfnacht gifts!

And in addition, Foxglove Comics (of which Tamberlane is a part!) did a cross-over collaboration comic for Halloween! Currently it's available for all of our collective patrons (Tamberlane, Tales of Kalzeria, Mothorial, and Laz Jones and the Mayfield Regulators) but it'll be released to the public on Halloween. Enjoy the spooks!
And if you're at all interested, join the Foxglove Comics Discord! It's full of creative folks and friendly readers, coming together to make a supportive space. Hope to see you there!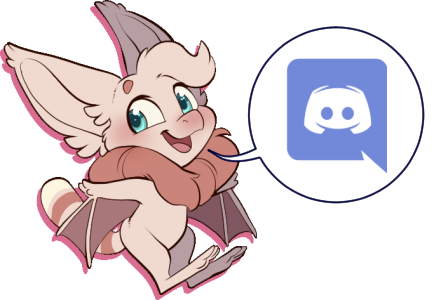 Whew. That was a lot of typing. Thanks for reading! ;3
---
Join Caytlin and Ari as they celebrate the public launch of the official re-edit of the first four chapters of Tamberlane! And also CAYTLIN'S BIRTHDAY HAPPY BIRTHDAY CAYTLIN
We are SUPER excited to announce the public release of an EXTENSIVE edit of the first four chapters of Tamberlane! During our production of the Omnibus collection for the recently completed Kickstarter, we spent hours pouring over every page of the first Arc (Chapters 1-4), tweaking dialogue and art when needed, both for story consistency and to ensure the best telling of this story! Over the years, the Tamberlane Saga has evolved significantly and it was super gratifying to be able to go back and make adjustments.
To celebrate this big relaunch (which happens to be around Caytlin's birthday, HAPPY BIRTHDAY CAYTLIN!!), we'll be hosting a launch party on Caytlin's Twitch on Friday, December 15 at 9AM PST! We hope to see you there! You can access the twitch here, or through the Twitch button in the navigation bar!
Transcript
JASON: Listen to Belfry. She'd know better than some old saltfur how the Treehollow Council functions.
BELFRY: Jason, you're 30.
JASON: My point stands.
JASON: I just mean for you to be cautious.
JASON: In the other places I've sailed, that place is nothing to trifle with.
JASON: And in my experience?
JASON: Councils and authorities always lean heavy-handed on the subject.
JASON: Ah, but don't let me frighten you. I'm sure it will turn out alright--
[SFX: PLAP]
JASON: PIPER!!
PIPER: SORRY, DAD!!
JASON: Hör auf Belfry. Sie wird besser wissen, wie der Stadtrat von Treehollow funktioniert, als ich alter Seebär.
BELFRY: Jason, du bist erst 30.
JASON: Meine Aussage bleibt die selbe.
JASON: Ich mein nur, du solltest vorsichtig sein.
JASON: In den Orten, die ich besucht habe, ist dieser Ort nicht zu unterschätzen.
JASON: Und meiner Erfahrung nach?
JASON: Räte und Autoritäten sind bei diesen Themen selten nachgiebig.
JASON: Ah, aber ich will euch keine Angst machen. Ich bin mir sicher, es wird gut werden--
SFX: PLAP
JASON: PIPER!!
PIPER: SORRY, DAD!!
JASON: Escuta a Belfry. Ela saberia melhor que algum lobo do mar sobre o Conselho de Treehollow.
BELFRY: Jason, você tem 30 anos.
JASON: Meu ponto continua válido.
JASON: Eu só quero fizer pra você tomar cuidado.
JASON: Nos outros lugares que eu naveguei para, aquele lugar não é uma coisa pra se brincar.
JASON: E na minha experiência?
JASON: Conselhos e autoridades sempre se inclinam a serem pesados no assunto.
JASON: Ah, mas não deixe eu te assustar. Eu tenho certeza que vai ficar tudo bem--
SFX: PLAP
JASON: PIPER!!
PIPER: DESCULPA, PAI!!
Languages
Edit this Transcript
Submit a Transcript