Author's Notes:
Quick, Belfry, save us from the sadness!
Hey all! Most important news: on Friday, the comments and forum on this site are going to be taken down and discontinued. I don't have the energy to properly moderate and cultivate the space, so we're going to instead be directing folks to the Foxglove Comics Discord! It's a well-moderated space and there's lots of fans there to chat about new uploads with. Plus I and the team are much more active there! Secondly, we're revamping the Patreon Friday! You can read all about the changes and updates here but in short: some high-effort-low-value rewards are going away, commissions are getting refreshed, and we're aiming for a better life/work balance for me! We'll be doing the revamp live on Friday on our Twitch at 1pm PST. Go check it out -- and maybe pledge?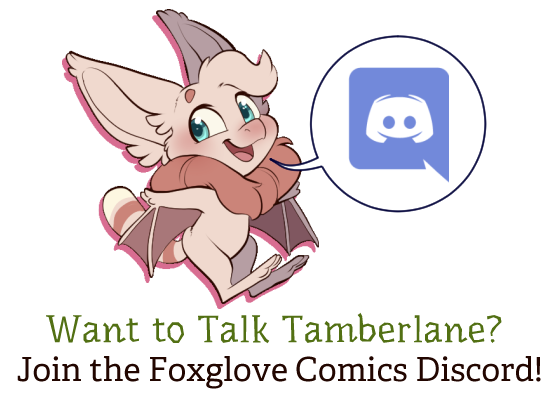 Transcript
BELFRY: Okay?
TAMBERLANE: Okay.
TAMBERLANE: If you ever get bad sick...
TAMBERLANE: ...will you go away and leave me, Mummy?
BELFRY: Oh, Tamberlane, no. Never.
BELFRY: We'll be together no matter what.
BELFRY: How about I tell you a better story? Would you like that?
TAMBERLANE: Yes, please.
BELFRY: Okay?
TAMBERLANE: Okay.
TAMBERLANE: Wenn du jemals sehr krank wirst...
TAMBERLANE: ...wirst du mich dann auch verlassen, Mami?
BELFRY: Oh, Tamberlane, nein. Niemals.
BELFRY: Wir werden zusammenbleiben, egal was passiert.
BELFRY: Wie wärs, wenn ich dir eine bessere Geschichte erzähl?
TAMBERLANE: Ja, bitte.
BELFRY: Ok?
TAMBERLANE: Ok.
TAMBERLANE: Se você ficar muito doente...
TAMBERLANE: ...você vai sair e me deixar, Mamãe?
BELFRY: Oh, Tamberlane, não. Nunca.
BELFRY: Vamos estar juntas não importa o quê.
BELFRY: Que tal eu te contar uma história melhor? Você gostaria disso?
TAMBERLANE: Sim, por favor.
Languages
Submit a Transcript