Author's Notes:
YEAH, LEAD WITH THAT, GAWD
KITTY CATFE CHARITY STREAM EVENT!! 01/07/19-01/12/019
The Kitty Catfe is in trouble and needs our help! Located in Edmonds, WA, this local cat cafe-slash-shelter needs to find a new space before February. With moving comes sudden moving costs, and we want to help the process go smoothly! With your contributions, we can help the Catfe find a new home! Join us as we create art for kitties!
WE HAVE MET OUR FIRST GOAL OF $2500, BUT THE KITTY CATFE STILL NEEDS YOUR HELP! Kitties need food, toys, litter, medication, and other expenses to be covered! They are frequently operating on a shoestring budget and need all the help they can get! All proceeds made this week still go to them!
Please check out our Charity Streaming Schedule HERE!
Our Patreon just got a big revamp! If you enjoy Tamberlane and want to support its creation, I recommend checking it out!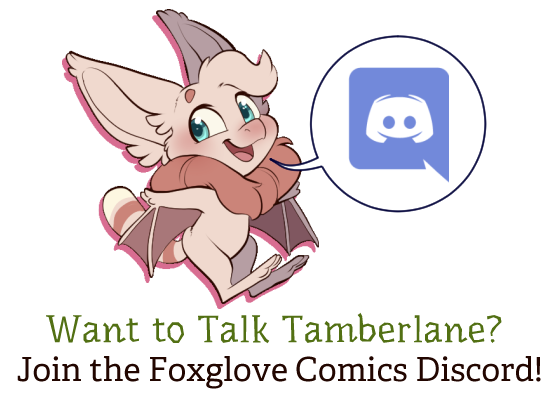 Transcript
BELFRY: Oh, Mum that's so old-fashioned! IF that happened, no one would care, Mum. We'd be going for medical care, not treason.
TESS: You'd be surprised, my Bel.
BELFRY: Sure, but you're on the council. You'd vouch for me, right?
BELFRY: YOU WOULDN'T VOUCH FOR ME?!
TESS: No, No! Of course I would!!
BELFRY: LEAD WITH THAT!!
TESS: I was just thinking it wouldn't matter if I vouched for you. If you go Abroad, I can't help you. No matter how hard I try.
BELFRY: Oh, Mum. Das ist so altmodisch! FALLS es so käme, würde es keinen kümmern, Mum. Wir würden medizinische Hilfe ersuchen, keinen Hochverrat begehen.
TESS: Du wärst überrascht, meine Bel.
BELFRY: Sicher, aber du sitzt doch im Rat. Du würdest für mich bürgen, oder?
BELFRY: DU WÜRDEST NICHT FÜR MICH BÜRGEN?!
TESS: Doch, doch! Natürlich würd ich das!!
BELFRY: SAG DAS DOCH GLEICH!!
TESS: Ich dachte bloß, es würde nichts ändern, selbst WENN ich für dich bürge. Gehst du nach Draußen, kann ich dir nicht mehr beistehen. Egal wie sehr ich es versuche.
BELFRY: Ah, Mãe. Isso é tão brega! SE isso acontecesse, ninguém ia se importar, Mãe. Estariamos indo por cuidado médico, não traição.
TESS: Você se surpreenderia, minha Bel.
BELFRY: Claro, Mas você está no conselho. Você atestaria por mim, certo?
BELFRY: VOCÊ NÃO ATESTARIA POR MIM?!
TESS: Não, Não! Claro que eu iria!!
BELFRY: COMEÇA COM ISSO!!
TESS: Eu só estava pensando que não iria importar que eu atestei por você. Se você for ao Exterior, eu não posso te ajudar. Não importa quanto eu tentar.
Languages
Submit a Transcript