Author's Notes:
Ah well, it was nice writing this comic, guys. RIP Tamberlane, The End!
Thank you to Chaon (Cur), Jonas (Jonas), and Ashley (Kira) for your patron cameos! And thank you to Knack Whittle for flatting this page!
Hey all! Most important news: on Friday, the comments and forum on this site are going to be taken down and discontinued. I don't have the energy to properly moderate and cultivate the space, so we're going to instead be directing folks to the Foxglove Comics Discord! It's a well-moderated space and there's lots of fans there to chat about new uploads with. Plus I and the team are much more active there! Secondly, we're revamping the Patreon Friday! You can read all about the changes and updates here but in short: some high-effort-low-value rewards are going away, commissions are getting refreshed, and we're aiming for a better life/work balance for me! We'll be doing the revamp live on Friday on our Twitch at 1pm PST. Go check it out -- and maybe pledge?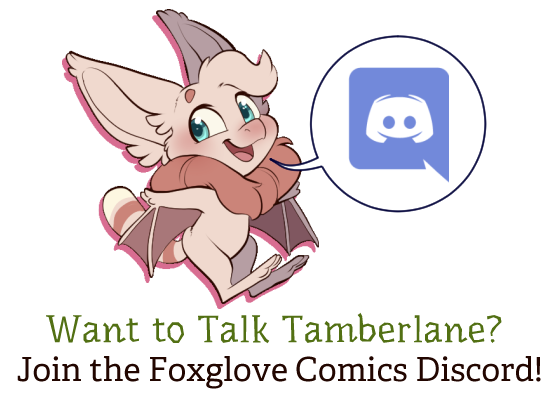 Transcript
CUR: Are you trying to push me? Is that what this is?
CUR: Lookit you, tryin' yer hardest, an' I can hardly feel a thing!
CUR: How pathetic can you be?
KIRA: Haha... Super pathetic.
CUR: I think I should...
CUR: ...show you how it's DONE!
TAMBERLANE: Wh-
CUR: Versuchst du mich zu schubsen? Ist das dein Plan?
CUR: Schau nur, du versuchst dein bestes und ich spür es kaum!
CUR: Wie erbärmlich kann man sein?
KIRA: Haha... Super erbärmlich.
CUR: Ich glaub ich sollte...
CUR: ...dir zeigen wie man's RICHTIG MACHT!
TAMBERLANE: Wa-
CUR: Você tá tentando me empurrar? É isso?
CUR: Dá uma olhada pra você, quebrando as costas, e eu estou sentindo neca de pitibiribas!
CUR: Quão patética você consegue ser?
KIRA: Haha... Super patética.
CUR: Eu acho que eu devia...
CUR: ...te mostrar como é que se FAZ!
TAMBERLANE: Qu-
Languages
Submit a Transcript