Author's Notes:
I don't think that's how it played out, Piper, but you do you!
Thanks to Knack Whittle for flatting this page!
Our Patreon just got a big revamp! If you enjoy Tamberlane and want to support its creation, I recommend checking it out!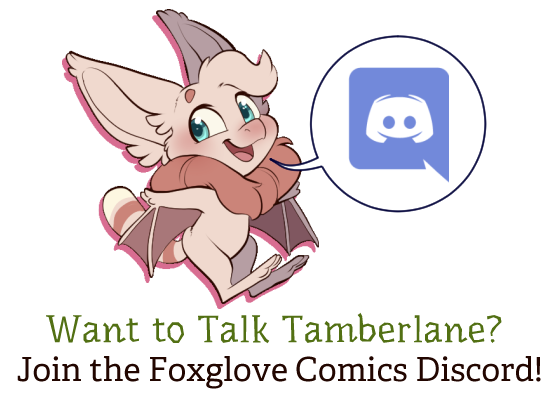 Transcript
PIPER: Wooow, that was wicked cool!
PIPER: You stood up to those rotten knobs like a champ!
PIPER: And then your mum took away your brilliant moment!
PIPER: And you were like, NOT TODAY, MUMMY!
PIPER: And then you kicked her in the face!!!
PIPER: Ow! Ow ow, that smarts!
TAMBERLANE: Please stop.
PIPER: Wooow, das war übelst cool!
PIPER: Du hast es diesen Schurken richtig gezeigt!
PIPER: Und dann nahm deine Mutter dir deinen großen Moment weg!
PIPER: Und du hast quasi gesagt "HEUTE NICHT, MAMI"!
PIPER: Und dann hast du ihr eine verpasst!!!
PIPER: Au! Au au, das tut weh!
TAMBERLANE: Hör bitte auf.
PIPER: Uaaaau, essa foi do caramba!
PIPER: Você encarou esses podres que nem uma patroa!
PIPER: Aí então tua mãe tirou o seu momento de brilhar!
PIPER: E você ficou tipo, HOJE NÃO, MAMÃE!
PIPER: E aí você chutou ela na cara!!!
PIPER: Ai! Ai ai, tá doendo!
TAMBERLANE: Para, por favor.
Languages
Submit a Transcript