Author's Notes:
Hmmm, questions about Tamberlane's past... Dang it, Piper!
Thank you, Knack Whittle, for flatting this page!
Our co-writer, Ari "Metajoker" Borhanian, whipped up a little video inspired by this comic:
---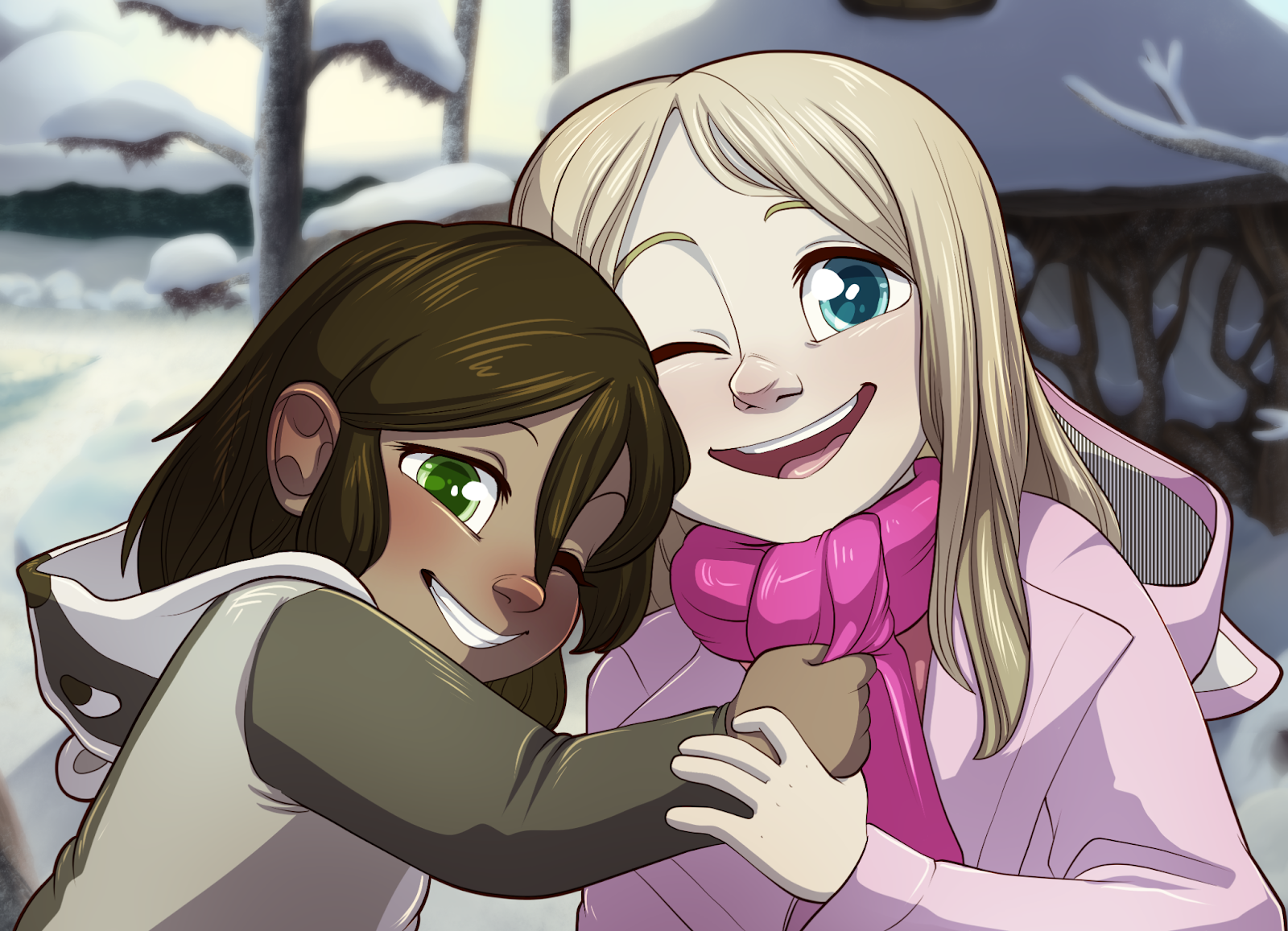 One Good Year for Anastasia
My friend's 6 year old daughter, whom I based Tamberlane on, has a fatal brain tumor and a prognosis of 1 year to live. I'm asking folks who love Tamberlane, if they're able, to throw a couple of dollars at their GoFundMe to give Anastasia a wonderful last year. Find out more here.
---
Transcript
PARSLEY: Who is this Vee who taught you Trissol?
TAMBERLANE: Vee!
PARSLEY: But was Vee, like, your Mum or your Dad then?
TAMBERLANE: No, Mummy is Belfry!
MARIE: But what about before you came to Treehollow? Who was your Mummy then?
TAMBERLANE: Um...
TAMBERLANE: I dunno.
MARIE: That's okay, Tamberlane. I know Mister Oakewood asked you this stuff for days.
PARSLEY: Okay, but what was Vee? Were they... like you?
TAMBERLANE: No... Vee was... de[illegible]
PIPER: OI, NUMPTIES! WHAT'S HANGIN'?
ALL: AAAAAAA!!!!

PARSLEY: Quem é esse Vê que te ensinou Trissol?
TAMBERLANE: Vê!
PARSLEY: Mas Vê era, tipo, seu Pai ou Mãe então?
TAMBERLANE: Não, a Mamãe é Belfry!
MARIE: Mas e antes de você ter vindo para Treehollow? Quem era sua Mamãe então?
TAMBERLANE: Ã...
TAMBERLANE: Num sei.
MARIE: Sem problemas, Tamberlane. Eu sei que o Senhor Oakewood te perguntou essas coisas por dias.
PARSLEY: Certo, mas o que era Vê? Eles eram... como você?
TAMBERLANE: Não... Vê era... ve[illegible]
PIPER: OI, BOCÓS! QUALÉ?
TODOS: AAAAAAA!!!!
Languages
Submit a Transcript