Author's Notes:
Heyyyy, it's my birthday week! Yay!
I intended to flood a bunch of awesome guest art on the site this week, but I have been exhausted and I've got so much other work to catch up on while I take this short upload break. Oof. So unfortunately I'm going to stick to just this one!
This adorable piece is a slightly older one by Nicole "Thornwolf" Dornsife! Nicole is one of the awesome folks I pay month to month to help me on Tamberlane. If you've maybe noticed an uptick in social media posts or store messages, it's because Thorn is fantastic at marketing copy, and she's been writing messages for me! She also has helped me in the past with rewriting my Patreon, and writing and planning the Chapter 3 Kickstarter. Thorn is Excellent.
You should check out her art and services! She does a lot of gorgeous wildlife art, and also offers very affordable copywriting services if you need it (like if you need a bio written!). Check out her website here and her Patreon here!
I'll see you guys next week!
---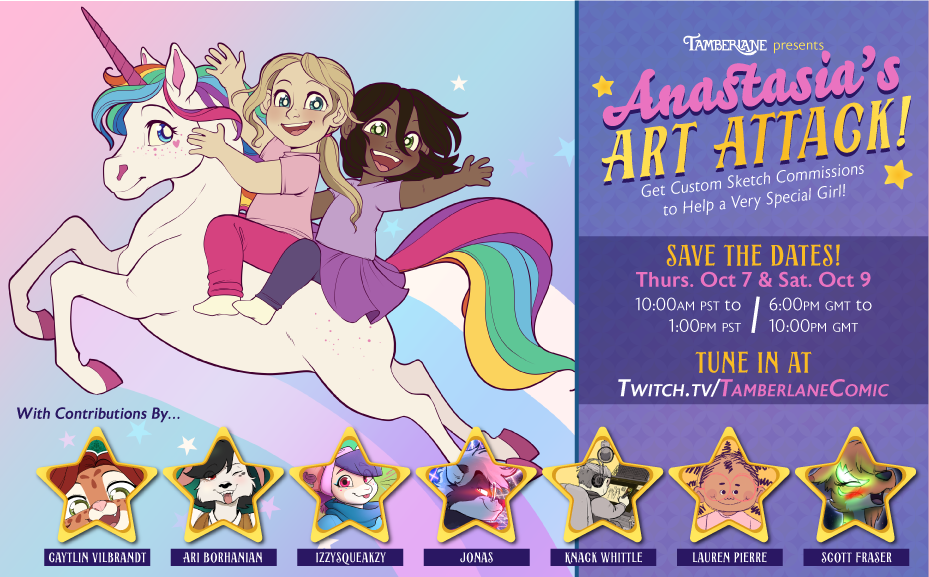 Join us for ANASTASIA'S ART ATTACK!
Save the Dates! On Thurs. Oct. 7 and Sat. Oct. 9, 10am-1PM PST, the Tamberlane Twitch channel will be holding a charity stream to help a special little girl, Anastasia! Join a handful of your favorite artists to get some art and raise money in this special charity event!
---
Submit a Transcript