Author's Notes:
I've been pushing myself to my limits lately. I've been doing a ton of work, and it doesn't help that this sequence is rather complex!
The good news is I got on the right meds and it gave me too much power, so I have been charging headlong into therapy, exercise, diet, etc.
The bad news is I've run myself ragged!
So I'm taking one week to relax and do nothing work-like. Then the following week I'll get back to work and try to get the buffer up again.
In the meantime, I'll try to get some guest content arranged, or at least some bonuses I've got lying around, but no promises. I'm focusing on what I can handle right now, haha.
Thanks y'all. See you in two weeks.
P.S. Thank you to Izzy for cleaning up that Sanrio-style sketch for me!!
Save Jonas from Drowning!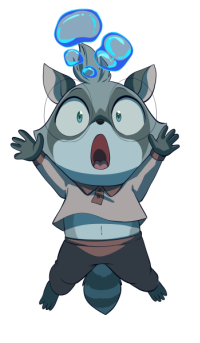 Hey, you know Jonas? The little raccoon gremlin in the bully trio who is drowning in the comic at this very second? Yeah, that Jonas -- or at least, the patron behind his cameo, needs our help! Like his character, Jonas has been underwater for some time and struggling to cobble together a safety net. So once again we're banding together to put our collective talents to fundraise a cushion for him!
The Tamberlane Twitch channel is hosting a single-day charity stream to help him pay back a small loan and then amass some security so he can make more strides in his debts and keep afloat.
So come join us on the May 28th, 11am - 3pm PST at the Tamberlane Twitch channel and help us save Jonas from drowning by getting amazing sketch commissions from me and other artists!!
Transcript
Hey guys! Caytlin here.
There's a lot going on right now.
With how hard I've been working, I am feeling very burnt out. My drawing hand is also acting up.
Plus a lot of things are going on in my personal life. (Good things, but hard things. You know how it is.)
Not to even mention the whole quarantine, etc.
All this to say, Tamberlane is taking a 2-week break.
We will return August 26th.
Thanks for your support!
Languages
Submit a Transcript